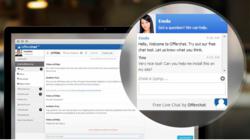 All existing Offerchat users automatically acquires the new widget on their sites, replacing the old one, without manually upgrading or re-adding the latest version.
Miami, FL (PRWEB) June 03, 2013
The latest version of the online chat for eCommerce websites has been fully released by the Development Team of Offerchat, a company that helps online retailers and SaaS companies make more by converting more sales and lowering service expenses. The new widget was completed and deployed last May 31, 2013.
Offerchat caught the attention of the eCommerce community because of its free online chat widget business owners can easily embed on their online stores to make themselves available to answer pre-sales inquiries visiting shoppers have in mind that could greatly affect their purchase decisions. The online chat tool has also been used for full-scale live chat support that may include post-sales customer support and inquiries.
The live chat for eCommerce by Offerchat holds the industry's most wanted chat features today only offered in monthly paid subscriptions by other companies. Because Offerchat takes its revenues from its live chat services, the chat tool is made available by the company for all.
The newly released embeddable chat widget is a complete re-iteration of the previous releases and is now in iFrame.
This brings with it a few advantages to new and existing websites with the Offerchat widget:

Total compatibility with Internet Explorer
Less conflicts with javascript elements on a website
More chats since the widget is now detected by more online shoppers
Easier to add to any website
All existing Offerchat users automatically acquire the new widget on their sites, replacing the old one, without manually upgrading or re-adding the latest version.
By default, eCommerce site owners who'd like to put the Offerchat live chat on their web stores will have the latest iFrame version. To learn more about the upgrade and how live chat can increase sales and conversions through visitor interaction via chat, visit http://www.offerchat.com
About Offerchat
Offerchat live chat is for online retailers, sellers and software as a service companies who must convert more visitors to actual buyers and users. It is a new way of handling live chat by providing not only a powerful free tool, but also the train staff to man the chat for you. Unlike other live chat companies, Offerchat has well trained live chat agents to staff your chat to help you close more sales.