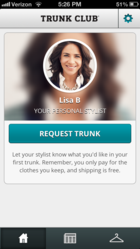 Chicago, IL (PRWEB) June 04, 2013
Trunk Club, a personalized clothing service for men that offers designer clothing without the typical shopping hassles, today unveiled its highly anticipated iPhone application. The app is designed to provide users with the ultimate dynamic, on-the-go retail service experience. It offers customers an instant connection with their personal stylist wherever they are, making it painless and friction-free to have a hand-selected "trunk" of clothing delivered to their door or to browse outfitting advice on past purchases.
The iPhone app is the latest example of Trunk Club's investment in technology. The company believes that its advances are the key to providing the most personalized shopping experience on the Internet. Unlike other fashion services, Trunk Club has built its own "relationship platform" for retail, empowering stylists and product teams with the information they need in order to deliver superior, tailored service and selection to customers. The iPhone app extends this to another level by giving users anywhere access to stylists through a simple mobile interface.
"Our goal is to create technology that enables rich 1-on-1 service relationships at scale. It should always feel human," said Neil Kamireddy, Product Manager on the iPhone application. "Trunk Club is different than other Internet retailers because of that relationship, so with this app we set out to extend that and cut even more friction out of the shopping experience – a customer of ours can have handpicked clothing delivered to their door with one or two taps once we know them."
"Within the past year, our mobile traffic has exploded," he added. "About 40 percent of our traffic comes from mobile and 80 percent of that stems from iOS. Our customers hate shopping or don't have time – mobile is a huge opportunity for us to deliver on that need."
"We envision mobile playing a major part in how our customers engage with us," said Blaine Fahey, iOS engineer on the project. "Putting Trunk Club in the hands of our clients is just another way we've made shopping easier for guys. The app is built around convenience, aligning perfectly with Trunk Club's model."
Trunk Club offers brand-name suits, casual wear and accessories to men without the hassle of online shopping or brick-and-mortar retail experiences. Trunk Club members share preferences and clothing needs with a trained personal stylist then receive a "trunk" filled with a selection of options handpicked for them. The trunk is shipped free both ways, and members simply keep the items they like and return what they don't.
The new Trunk Club iOS app is equipped with the following capabilities:
1. Connect members with their stylists wherever they are in a few quick taps. They can request a new personalized trunk in seconds through an "Uber-like" friction-free ordering and payment experience. Once the member's trunk arrives, he can give feedback to his stylist right from the app.
2. Access personalized outfit recommendations from a member's stylist. What goes with what? What can he wear on that date next weekend? If he's ever bored with what he sees, he can request new suggestions from his stylist with a tap.
3. Browse exclusive featured trunks curated by Trunk Club (e.g., "Spring Blazers") to learn about new brands, styles, or looks. A member likes something he sees? One tap alerts his stylist to put something similar together based on his unique preferences.
The new app launches as Trunk Club tripled its revenue for the third consecutive year. The company earned $17 million in revenue last year and projects sales of $40 million in 2013. Member numbers have increased three-fold in the last year as well. With more than 30,000 members nationwide and over 160 employees (up from just five in 2010), Trunk Club is recognized as an innovator in both retail and technology.
To download the iPhone app, search "Trunk Club" in the app store or trunkclub.com/iphone to download directly. For more information on Trunk Club and its iPhone app, visit http://www.trunkclub.com
# # #
ABOUT TRUNK CLUB
Trunk Club is a personalized clothing service for men, offering designer clothing to customers without any of the hassles of shopping in stores or online. Men tell Trunk Club their style, fit, and size preferences, and the company ships them a handpicked selection of clothes. Customers keep only what they want and send the rest back with a pre-paid shipping label. All shipping is free and there are no fees for the service. Based in Chicago's rapidly growing startup scene, the company is led by CEO Brian Spaly. Prior to Trunk Club, Brian founded men's online retailer Bonobos while a student at Stanford Business School. Visit http://www.trunkclub.com to learn more and order your first trunk.