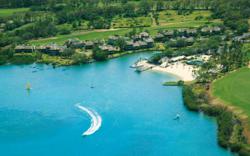 Currently, international buyers are able to acquire luxury villas, duplexes and lodges at the Amalthea neighbourhood, through a simple process implemented by the Mauritian Government
London, UK (PRWEB UK) 4 June 2013
1. Integrated Resort Scheme - The Integrated Resort Scheme (IRS) is a programme developed by the Government of Mauritius designed to assist in the purchase of residential property by non-citizens of Mauritius.
In 2002 the Mauritian Government took the decision to open the market to foreign buyers on a restricted basis, which permits the construction and sale of luxury villas in Mauritius to non-residents in particular locations, and subject to certain conditions. To date, only a small number of projects have been completed - including the leading IRS development: Anahita Mauritius on the east coast of the island.
Currently, international buyers are able to acquire luxury villas, duplexes and lodges at the Amalthea neighbourhood, through the simple process implemented by the Mauritian Government.
2. Mauritian Residency – International buyers, as well as their spouses and dependents may obtain Mauritian residency when they acquire luxury property at an IRS development, such as Anahita. The homeowner and their family may reside in Mauritius for as long as they own the property.
The following persons may acquire residential property when purchasing:

a non-citizen of Mauritius
a citizen of Mauritius
a company registered as a foreign company in Mauritius under the Companies Act 2001
a company incorporated in Mauritius under the Companies Act 2001
a société, where its deed of formation is deposited with the Registrar of Companies of Mauritius
a trust, where the trusteeship services are provided by a qualified trustee licensed by the Financial Services Commission of Mauritius (FSC)
Immediate eligibility for a residence permit is possible upon acquisition of the Amalthea villas, duplexes or lodges, at Anahita.
3.Financial Business Hub – Situated in the Indian Ocean, the country is recognised as an excellent place in which to do business. Mauritius is one of the most open and financially sound economies in Sub-Saharan Africa. The success of the economy is largely due to the country's political and socio-economic stability, coupled with good governance and a pro-investment climate.
Ranked 1st in the 2008 Ibrahim Index of African Governance and 1st in Sub-Saharan Africa and 17th globally in the World Bank Doing Business Report 2010, Mauritius is the springboard for investment and doing business in Africa, Middle East and Asia.
Furthermore, the island benefits from no capital gains tax and no inheritance tax, which draws many investors to the country each year.
4. Social & Political stability – Mauritius has enjoyed political stability since it became an independent nation in 1968. The Government is democratically elected every five years, and successive governments have shown a strong commitment to a market-driven economy where free enterprise can flourish and foreign investment prospers.
5. Attractive year-round climate & exquisite lifestyles – Last, but by no means least, Mauritius enjoys an attractive year-round climate, sparkling crystal clear waters of the Indian Ocean and a beautiful tropical environment that offers unparalleled luxury. Here, you will discover the true meaning of 'beauty'. Coupled with legendary Mauritian hospitality, residents enjoy peaceful, exquisite lifestyles.
The freehold properties are located on six kilometres of shoreline, along the largest lagoon in Mauritius. With flagship partners such as Four Seasons Hotels & Resorts, and Ernie Els, the resort combines luxury Mauritian living and all the comforts of home, alongside 5* services & amenities.
Backed by two leading industrial and investment companies based in Mauritius, the Amalthea neighbourhood is currently being offered for sale through Savills International. Amalthea indicative entry prices range from €490,000 for the lodges to €630,000 for mid-range duplex, and villa prices starting at €790,000.
For more information please visit http://www.anahitaproperty.co.uk.
About Savills
Savills plc is a global real estate services provider listed on the London Stock Exchange. Savills has an international network of more than 500 offices in 45 countries and associates throughout the Americas, the UK, Europe, Asia Pacific, Africa and the Middle East, offering a broad range of specialist advisory, management and transactional services to clients all over the world.