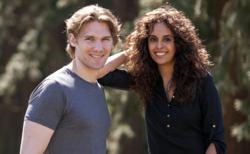 A weight loss program for real people living in the real world
London (PRWEB UK) 10 June 2013
Today, an online and community-oriented weight loss program called eSlimClub, has successfully launched. eSlimClub aims to provide an easy, accessible and affordable solution for long-term weight loss.
Recommended by Dr. Vieira, eSlimClub will help to re-pattern emotional eating habits instead of eliminating a person's favorite foods. eSlim founders Marc Dressen and Malminder Gill believe that overeating begins with the brain. Instead of offering a weight loss pill or shake, these specialists created a program that examines what triggers a person's eating.
With a coaching style approach to weight loss, the program provides interactive tools and motivational techniques to help members work through emotional eating habits, whether caused by stress or boredom.
Exercise and eating guides will help members—who hate the gym and love chocolate—incorporate different techniques for long-term weight loss. The program is a combination of willpower techniques, weekly weigh-in sessions, and simple 7-14 minute exercises specifically designed to burn fat.
eSlim's online portal is a space with ongoing community support; members from around the world can connect to discuss their weight loss at weekly e-meetings, form friendships and offer encouragement to fellow members.
This new program has been recommended by Dr. Karen Vieira, a biomedical scientist, who sees various weight loss products in her line of work. She says that many people looking to lose weight get off track and don't meet their goals.
"They lose motivation, they can't overcome cravings and they adhere to outdated or incorrect information," Vieira said. "Now, men and women can turn to eSlimClub, which addresses each of these problems."
There are no joining or monthly fees, just a one-time fee for a 90 day membership. For more information, visit http://www.eslimclub.com/.
About eSlimClub
eSlimClub.com, an online slimming program and community, was founded by Marc Patrick Dressen, a Nutritional Specialist, and NLP Master who holds a masters degree in sports science; and Malminder Kaur Gill, an NLP Master Practitioner, life coach and IOEE Mentor. The program is comprised of interactive coaching, exercise and education modules delivered via the web to help you lose weight long-term. eSlim Club offers a less abrasive, natural and personal approach to weight loss. The eSlim Club Program was created following extensive research carried out globally and nationally in the UK.