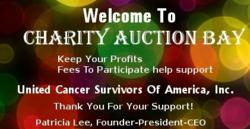 There is no other auction site like it.
Birmingham, Alabama (PRWEB) June 06, 2013
CharityAuctionBay.com is a place where people or businesses may sell items same as on eBay and keep their profits what from they sell but the listing fees to participate go to help support United Cancer Survivors of America, Inc.. A few sponsored advertisements placed on the site also help support the site and the nonprofit. The site works similar to eBay where people may list individual items they wish to sell or, if they have several items to sell, they may set up a store. When people list their items to sell they may also place their item to be listed in a particular state thereby helping to support scholarship winners and cancer survivors from that particular state. Founder-President-CEO, Patricia Lee says, "There is no other auction site like it. We are national but the listing fees you pay to participate can stay local to your state. It is a win win for us all. Also, this is a great place for other organizations, schools, churches, etc. to have a store front to raise money for themselves and help us at the same time. The store fronts are for items with a fixed sell amount while the rest of our site is for regular auctions. This site is brand new. We need people participating from across the country to help us get things started. It is our dream to be able to give scholarships and financially help cancer survivors in every state every year. Together we can make this happen."
United Cancer Survivors of America, Inc. is a unique nonprofit which offers two scholarship programs plus monetary help for cancer surviving families. They also will be holding an annual event to raise money for St. Jude Children's Hospital. Patricia Lee, Founder-President is a three time cancer survivor including Neuroblastoma, Uterine Tumor in 1997 and Stage 3C Breast Cancer in 2005 and also is the 2005 American Cancer Society Life Inspiration Award Winner for Alabama. You may learn more about her and the program on their website.