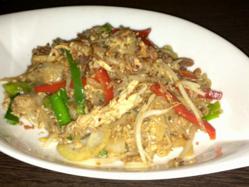 Super-slim women have kept these noodles a closely guarded secret... Now, diners can experience a gastronomic sensation without any compromise on taste.
(PRWEB UK) 6 June 2013
Anyone who has watched their weight or gone on a diet will have experienced the disappointing taste of many 'healthy' foods that are poor imitations of the real thing, and finding a healthy option on a restaurant menu is one of the major challenges presented to diners when eating out with friends.
Leading London Pan-Asian restaurant FuLuShou has become the first eatery in the capital to launch an innovative menu range using the latest dietary sensation: carb free 'miracle' Shirataki noodles. Until recently, super-slim Asian women have kept these zero fat, zero carb, zero calorie noodles a closely guarded secret. Now thanks to FuLuShou's executive chef Wai, diners can experience a gastronomic sensation without any compromise on taste.
FuLuShou is situated in the heart of The Casino at the Empire in London's Leicester Square. Executive Chef Wai is a former sous chef at The Dorchester Hotel and has taken his extensive knowledge of Oriental cooking and his expertise to develop four exquisitely flavoured dishes based on traditional Asian favourites including Pad Thai and Kimchee Beef. Until now, such items would have been strictly off the menu for low-carb or gluten free diners, but Wai's dishes contain total carbs of less than 1g, 0% Fat, 0% Cholesterol and 0% Sodium in their noodle components.
Shirataki noodles have been a familiar item on Japanese menus for years, but have recently caused something of a sensation amongst dieters and healthy eaters in the UK. Their appeal? The noodles are made from glucomannan flour (a soluble dietary fibre) and water and are calorie, carb and gluten free.
Once found only on the shelves of Asian markets, Shirataki noodles are now becoming a familiar sight on supermarket shelves. The noodles absorb the flavours of the foods they are cooked with so work particularly well with the bold, bright and tangy flavours of Asian cuisine.
Wai said, "Restaurant diners today are more discerning and knowledgeable about food than ever before. I wanted to demonstrate that zero carb doesn't have to mean zero taste. When you taste my dishes, you would never guess that you're eating a 'health food.' They are full of flavour and can be enjoyed by anyone watching their diet without feeling like they are missing out on a great meal."
The four specially created dishes are:
Yaki Soba
Pad Thai
Stir Fried Vegetables Noodles
Kimchee with Grilled Beef
Diners will be also be able to request Shirataki noodles with any of the dishes on the Fulushou menu for a small supplement.
Notes to editors:
FuLuShou is a stylish yet informal Asian restaurant in London's Leicester Square, serving affordable traditional pan-Asian cuisine.
Striking wall hangings and lounge-booth seating create an intimate oriental space in this cool and relaxed London restaurant. Set right in the heart of the Casino at the Empire, the restaurant enjoys views over the action of the casino but well away from the noise for a great dining experience.
The on-show kitchen allows diners to watch our highly skilled Chinese chefs in action. Formerly a chef at the prestigious Dorchester Hotel in London, head chef Wai is passionate about sourcing authentic ingredients of the finest quality.
The exciting menu includes Char Sui Pork, West Lake Beef Soup and Aromatic Crispy Duck, with most dishes available in single or share sizes, making them perfect to enjoy individually or as a group.
FuLuShou also offers an enticing selection of exotic teas sourced from the four corners of the continent.
The restaurant is open every night from 6pm. Last orders 1:15am.
Pre-bookings are limited to six people.