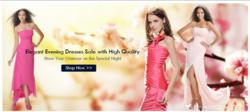 Plus Size Evening Dresses, 2013 Evening Dresses, 2014 Evening Dresses
HK, China (PRWEB) June 07, 2013
It is now past prom season for most online dress shops and the majority of them are still stuck with styles and fashion trends for the 2013 year. 2013 evening dresses are now out of date and the styles have been broadcasted for over a year on the streets and in the media. Ericdress.com strives to stay in front of the fashions by now showcasing the 2014 unique styles for evening dresses on their website. Including designs by famous designers like Melton Gere and Lindy Ken.
Ericdress.com stays on top of the latest news and designer fashions and is able to offer a range in sizes from petite to plus size evening dresses for special occasions. In 2013 they offered a beautiful sample dress that was black and white, with a sweetheart neckline and backless.
People who specialize in selling dresses should know that for evening dresses, elegant styles are most important. As the average American dress size is a size 14, plus sized styles have been hot selling for a long time. There also is a huge demand for evening dresses with a variety of styles at reasonable prices.
To promote the 2014 evening dresses now being offered, Ericdress.com will offer a 70% discount for the first 100 customers to purchase a plus sized evening dress. Many of the styles will be offered for under $100 after the discount.
About Ericdress.com
EricDress is an Online Shopping Store for Wedding & Party Dresses. Established in 2011 they supply the latest fashion, wedding dresses and party dresses for people all over the world. They offer great sales and multiple discounts to their customers. For more information, please visit them at http://www.ericdress.com/.