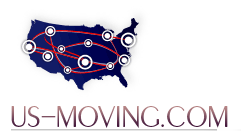 People can request quotes from the leading moving companies in the area and within minutes will receive a competitive quote directly from the moving company
(PRWEB) June 04, 2013
US-Moving.com has introduced a new service that helps people to find professional movers without any hassles. People can request quotes from the leading moving companies in the area and within minutes will receive a competitive quote directly from the moving company. People can compare the quotes and browse through online reviews before they pick a service provider. This is a no obligation offer.
http://www.US-Moving.com helps people to find the best moving deals quickly. People can get much better deals if they shop around before they choose a service provider. A reputable company may charge a little more, but it will provide good service and will have transparent terms and conditions. The customer will not have to worry about hidden costs.
On their website, US-Moving offers practical advice which helps people to make hassle-free moves. A moving checklist can help people to remember all the steps they need to take to prepare for the move. Another good idea is to print out a floor plan of the new house that can be used to pick the spots where the heavy furniture is to be placed. The tips on the site also suggest that for those who want to do their own packing, they need to start early and pack a few moving boxes every day. Every moving box needs to have a label that mentions its contents and the room in which it is to be placed in the new house.
In addition to household movers, people can find experienced office moving companies that will help them to make a hassle-free move. The move will be planned after office hours or on a holiday to minimize business disruption. Experienced professionals will move office equipment with care and set it up properly at the destination. Employees will be able to commence work without any delay on the next working day.
US-Moving.com's new online database makes it easy for people to compare quotes from the leading household and business moving companies in the area. A moving company with a proven track record will have well-trained, experienced employees who will handle the customer's valuable possessions with care.
The company offers an online service that helps people to find the best moving deals quickly. People can get no charge quotes from reputable companies for truck rentals, moving supplies, auto transportation, self-service moving, local moving, interstate moving, international moving, storage and more.