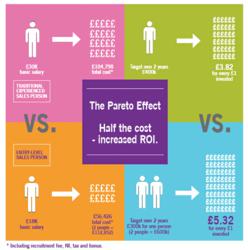 Year on year, how often in management are you asked to pay experienced sales people more for doing the same amount of revenue?
Wilmslow, Cheshire (PRWEB UK) 4 June 2013
For many at the top end of business, a need to protect investment when it comes to the sales recruitment process leads straight to the 'work experience' section of the CV as an indication and determent for future success. However, sales recruitment specialists at Pareto now present an alternative take on the traditional recruitment model by exploring the potential revenue generated by entry-level candidates in the world of sales, identifying return on investment of up to £5.32 for every £1 invested from up-and-coming sales superstars versus just £3.82 from their experienced equivalents.
"There is no disputing that experience adds significant value in the world of sales, particularly when recruiting at managerial level or when business development strategy calls for a quick return on investment." Pareto Sales Manager Andrew Wood explains.
"However, when looking to build business in the long-term, there is often greater value to be gained through investment into the development and training of entry-level sales talent, enabling UK business to organically grow sales superstars who will ultimately deliver a higher return on investment by comparison to their experienced equivalents."
Pareto's latest whitepaper expands upon figures identified by the organisation's sales recruitment specialists which demonstrate that by bringing on-board two entry-level sales people at the same cost of a single seasoned sales professional, UK business can successfully work towards higher targets across a two-year period and, ultimately, greater return on their original investment.
The comparison looks at the recruitment of a sales person with a few years of relevant experience at a base salary of £30,000, typically costing an organisation in the region of £104,798 over two years. Once the benefits package typically expected at this level is also considered – including an executive company car, 25+ days holiday, healthcare or pensions packages and more – the cost represents a considerable investment.
By comparison, sales recruitment of an entry-level candidate on a starting salary of £18,000 will present far less cost to the business, averaging in the region of £56,426 over the two years: almost half the total cost presented by their experienced equivalent. For almost the same total cost, businesses can recruit two entry-level candidates at the same cost of a single experienced professional, and actually strive towards greater targets.
"There are too many managers and recruiters in business who look straight to experience as an indication of potential to generate revenue when in reality, those previously acquired skills and knowledge may not be transferrable or malleable to a new business culture or industry. Investing in 'blank slate' entry-level sales people can not only see businesses realising a greater return on their original investment, but an introduction of organically-grown sales talent who will help shape the future of their organisation." Andrew concludes.
'The Power of Potential: Exploring the Real Return of Sales Recruitment' is available now to download from the Pareto website.
About Pareto Law:
Pareto Law is the UK's biggest and most successful sales enhancement company: the authority on sales, no less, since 1995. Pareto brings companies the 20% of the sales team that makes 80% of the difference.
The Pareto Effect can be experienced in many ways and it can have a remarkable, measurable effect on your business. Pareto delivers this effect through four key elements – Sales Recruitment, Sales Training, Executive Recruitment and Sales Enhancement, bringing your business sales assessment and accreditation solutions to deliver sales excellence.