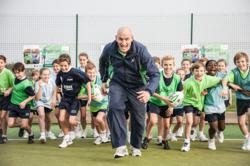 "I've known Premier Sport for a long time. They are very passionate about getting children playing all sorts of sports which is a very exciting initiative and one that I'm fully committed to putting my name behind" Lawrence Dallaglio OBE
(PRWEB UK) 5 June 2013
Premier Sport, the UK's leading sports coaching company, has unveiled its innovative sport and physical activity programme - giving more young people the chance to be active and stay active.
After 18 months of development and collaboration with industry leading professionals and educational experts, the INSPIRE programme has been officially launched and backed by giants of UK Sport including rugby legend Lawrence Dallaglio OBE and Swimming icon Duncan Goodhew MBE.
"The INSPIRE programme provides fantastic opportunities to all children, sporty and non-sporty to enjoy physical activity and sport. A key message of the programme is to engage with the disengaged, providing opportunities for children to have a lifelong appreciation of being physically active.
There has been a lot of debate about the Olympic legacy, the Inspire programme is prime example of a sustainable, measurable solution" Duncan Goodhew OBE
The INSPIRE programme consists of 6 strands, starting at foundation (pre-school) age right through to programmes for parents at the school gates.
INSPIRE means not only sporty children will benefit from the excellent provision of over 500+ professionals deployed across the UK, but Premier Sport are set to INSPIRE the non-sporty via Physical Activity and play – giving more people the chance to be active and stay active.
INSPIRE is backed by state of the art technology that measure pupil progress and attainment, based on agreed outcomes with each school. This allows teaching staff to measure progress at the click of a button and they can even allow parents access to that information if they wish.
It also reduces administration for schools, as all Physical activity & Sport planned in the school can be displayed for parents to view, meaning this area of the new sport premium funding announced by the government is also covered.
But it is the programme delivery which is the most inspirational aspect. The 4 pillars of the INSPIRE to Achieve (KEY STAGE 1&2) programme, offer a journey of lifelong learning opportunities and engages all children via the breadth of physical activity and sporting sessions that each activity includes - START Active, STAY Active, SPORT Active and PLAY Active.
"I've known Premier Sport for a long time. They are very passionate about getting children playing all sorts of sports which is a very exciting initiative and one that I'm fully committed to putting my name behind" Lawrence Dallaglio OBE
INSPIRE to Achieve allows teachers to agree learning aims & outcomes across all areas of sport and physical activity and ultimately measure progress of every individual for the duration of the programme.

Engaging the disengaged
Gifted and talented
Improve attendance
Improve behaviour
Develops

Social and communication skills
Self-esteem
Balance
Coordination
Physical wellbeing
Premier Sport become an extension to the school teaching staff and are able to work with teachers to up-skill them in their knowledge of delivering fun, innovative physical activity lessons to ensure this is a sustainable model. By working with teachers and not 'replacing' them Premier Sport is committed to enriching the provision of PE, physical activity and school sport.
The sport active and inspire to compete programmes builds relationships and local links with community sports clubs, SSPs, CSPs and school games organisers to offer exit routes for children to increase participation in community sports clubs, thus adding further value to the service provided to schools.
Editors Notes:
Premier Sport is the UK's largest children's coaching company, successfully delivering more than 20 different sports to over 150,000 children every week and employed by thousands of schools nationwide. Our NGB qualified staff specialise in sports teaching and instruction in curriculum time, as well as after school, breakfast, lunch and holiday clubs.
Premier Sport ambassadors include Lawrence Dallaglio, Duncan Goodhew, Paul Sculthorpe, Donna Kellogg, Paul Nixon, Daniel Nobbs, Bobby White and Wendy Sly.
As a founding member of COMPASS, the Community of Providers of Physical Activity and Sports, and the first organisation of its kind to be awarded the highly prestigious Quality in Study Support (QiSS) kitemark, For more information, visit compassassociation.org.uk.
The INSPIRE Programme has been developed with industry leading experts, including Yvonne Gandy, a former teacher, senior leader, advisor, OFSTED inspector, author and independent consultant, Yvonne is passionate about education and its relevance to young people's learning. Having worked for the Association of Physical Education, the Youth Sport Trust, Sports Coach UK, and Sport England amongst others, Yvonne brings with her a wealth of experience and expertise which is transferred to our professional coaching staff.
Premier Sport staff are all National Governing Body qualified and have industry leading insurance, liability and safeguarding certification - a must when placing children into our care.
Company Details:
Web: http://www.premiersport.org
Twitter: @premsport
Facebook: http://www.facebook.com/premiersport.org