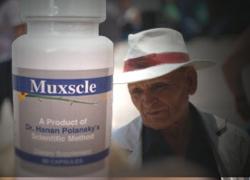 Rochester, NY (PRWEB) June 03, 2013
polyDNA's latest stroke survey showed that respondents had questions about the cause of stroke. The answer is that research identified latent viruses as a common cause of stroke. There is no approved lab test that can determine the cause of any particular stroke. Hence, indirect indications must be used to better understand the potential cause of stroke.
One such indication is post stroke fatigue. The Microcompetition with Foreign DNA theory, developed by Dr. Hanan Polansky, says that a latent virus causes fatigue. Therefore, according to this theory, if one suffers from both fatigue and stroke, there is a high probability that the underlying cause of the stroke is latent viruses.
One study from the journal 'Nature Reviews: Neurology' (1) says that "Increasing evidence indicates that the aggregate burden of chronic and/or past infections rather than any one single infectious disease is associated with the risk of stroke." Additionally, "studies indicate that chronic infections, such as …Cytomegalovirus, might increase stroke risk."
Another study said that "Infections have long been recognized as a potential… cause of cerebrovascular disease." and "there has been renewed interest in the possibility that common infections may … lead to stroke." (Seminars in Neurology, 2006) (2)
Research shows that "Individuals who have suffered a stroke are at high risk of having another stroke likely leading to greater disability and institutionalization." (Cochrane Database Systematic Review, 2013)(3) How does one avoid a second stroke? If a person does not know the cause of stroke, or the person suspects that it might be a virus, polyDNA recommends Muxscle.
Muxscle is a natural product clinically proven by scientists at the Center for the Biology of Chronic Disease (CBCD) to be effective against latent viruses and to reduce fatigue. (4)
Each capsule of Muxscle contains a patented formula of five all natural ingredients including selenium, camellia sinesis extract, quercetin, cinnamomum extract, and licorice extract. In addition, each bottle is GMP Certified. (5).
To learn more about Muxscle, visit http://www.muxscle.com.
References:
(1) http://www.nature.com/nrneurol/journal/v6/n12/full/nrneurol.2010.163.html
(2) http://www.ncbi.nlm.nih.gov/pubmed/16479447
(3) http://www.ncbi.nlm.nih.gov/pubmed/23543566
(4) http://www.cbcd.net/Muxscle-Decreases-Fatigue-Clinical-Study.php
(5) http://muxscle.com/
###
polyDNA is a biotechnology company that develops dietary supplements using the unique scientific method developed by Dr. Hanan Polansky, which is based on Computer Intuition.
In addition to his unique scientific method, Dr. Polansky published the highly acclaimed scientific discovery called Microcompetition with Foreign DNA.
The discovery explains how foreign DNA fragments and specifically DNA of latent viruses cause most major diseases. polyDNA developed Gene-Eden-VIR, an antiviral natural remedy that helps the immune system kill latent viruses.