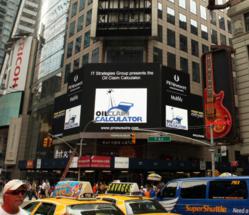 IT Strategies Group releases the Customer Mix Test for Business Economic Loss Claims with Batch Import Feature for the OilClaim Calculator Software to help professional firms that prepare BP Oil Spill Claims for affected businesses.
(PRWEB) June 03, 2013
"Many firms have placed high dollar business economic loss claims to the bottom of the stack when they did not meet Presumed or V-Shaped Revenue Pattern causation. The reason that firms deprioritized these BP claims is that they did not know how to do a Customer Mix Test for a claim that passes the Decline Only or Modified V causation tests.
"It is not easy, and to make it more challenging, you have to determine an economic loss zone for each and every single client the business made a sale to for each year measured. This would be impossible without software that did the mapping for you and even harder without a batch import feature for thousands of client receipts. This is the software that IT Strategies Group invented for the OilClaim Calculator and proudly releases today on June 3, 2013!" said Daniel S. Jacobs, VP of Sales for IT Strategies Group Inc.
The Customer Mix Test software of the OilClaim CalculatorTM software contains the following:

Highly Accurate Zone Map Calculations for Each and Every Address Listed in the Customer Mix Test – There are only two places in the world that have this type of data available and ITSG is one of them, and the only one that provides the full gamet of BP Claim calculation that generates a claim report in accordance with the guidelines and methodologies of the Deepwater Horizon Settlement Authority that determines what zone the claim qualifies for if any. The Customer Mix Test Requires an Economic Loss Zone Map calculation for each and every address. Some claims have hundreds, thousands, tens of thousands or more addresses for customer revenues in each month that is entered into each Business Economic Loss Claim.
Batch Address Import Feature for Receipts. There is a new feature specific to the Customer Mix Test software that allows a user to upload a .CSV(Comma Separated Value) formatted spreadsheet so data entry is not required for inputting customer addresses and receipt amounts. This import feature is a game changer. ITSG staff can also translate and modify PDF data to convert it into CSV for clients at times if saved properly.
Customer Mix Test Algorithms. The software does not require user intervention in choosing Benchmark Periods. The Customer Mix Tests are completely automated for the entire process from cradle to grave. It's a thing of beauty.
Complete Automation of All Compensation Algorithms. The best months in the Compensation Calculations are tested and selected by highly sophisticated algorithms and will maximize each claim instantly after all claimant P&L data and Customer Mix data is entered. This simply is not possible in manual spreadsheets. It's done to perfection in the Oil Claim Calculator software.
Comprehensive Business Economic Loss Claim Report With Customer Mix Test Printed. Full-Color, PDF Claim Reports are printed at the end of the calculation section that are comprehensive and include the Economic Loss Zone Map, comparable map from the Settlement Agreement, Customer Mix Test data, Compensation Calculations, and Total Compensation.
"There are so many firms waiting for this Customer Mix Test software. We have gotten thousands of calls about Customer Mix Tests over the last 13 months since the Amended Settlement Agreement was accepted. It is not conceivable to do these Customer Mix Tests in a cost-effective or timely manner without automatically determining the Zone of each customer for a business. Most businesses have thousands of customer receipts each year that each need to be mapped. Only the court appointed Deepwater Horizon Settlement Authority and IT Strategies Group's OilClaim Calculator have this mapping data already programmed into their systems. After importing a merchant bank spreadsheet for 2 years of customer credit card receipts, a Customer Mix Test can be done within hours. This is incredible.," said Craig Sienema, VP of Operations for ITSG and the OilClaim Calculator.
The OilClaim CalculatorTM is the only fully automated patent-pending, revolutionary software tool that allows BP Oil Spill Claims to be calculated in a consistent and accurate fashion that outputs a standardized claim report for each file in accordance with the methodologies of the new Settlement Authority per MDL2179 in the Eastern District Court of the USA. This software is a must have for any professional services firm that helps those families and businesses affected by the Deepwater Horizon Oil Spill, such as law firms, accounting firms, and claims preparation firms.
About IT Strategies Group
ITSG a privately held company that has over 25 years of experience in technological developments and specialized areas of computing, including the very latest in Custom Application & Software Design for the insurance, accounting, and legal markets. ITSG is most famous for inventing the OilClaim Calculator™ software that was used to calculate OVER 800 Million Dollars in Deepwater Horizon Oil Spill claims in excess of 7,500 claimants that were submitted to the court-supervised DHECC. ITSG is headquartered in Fort Lauderdale, Florida and has offices in Fort Lauderdale, FL, Panama City Beach, FL, and Destin, FL. ITSG is headquartered in Fort Lauderdale, Florida and has offices in Fort Lauderdale, FL, Panama City Beach, FL, and Destin, FL. For more information, please contact our sales department at sales(at)itstrategiesgroup(dot)com, call 1 800 294 0387 or visit the Oil Claim Calculator Home Page at http://www.oilclaimcalculator.com or follow us on Twitter at https://twitter.com/OilClaimCalcula