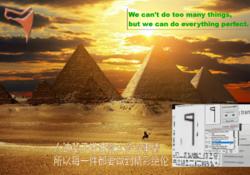 A Picture is Worth a Thousand Words; With GlyphViewer, Even the Pictures Which are Thousands of Years Old Can Reveal their Stories
Lewes, Delaware (PRWEB) June 05, 2013
GlyphViewer Translation Tool one of the leading names in the world of translation softwares for languages and letters based on symbols will be available to the limited number of new users with a special discount price.
GlyphViewer is now available for only $58.41 for a limited amount of time starting with 9th of June, 2013 on Bitsdujour. With this special offer GlyphViewer perfectly corresponds with the increasing demand and interests among both amateur enthusiasts and hard-working professional translators. Only for a limited amount of time new users will be able to purchase this great application for this fantastic promotional price.
GlyphViewer offers its users with new and improved opportunities. With GlyphViewer it is not only possible to translate the Ancient Egyptian Hieroglyphs, but it is also possible to use over 1,000 symbols for creating your own words. With GlyphViewer it is finally possible to translate words from and into Egyptian Hieroglyphs with ease. The translated work can be exported to both image and HTML format.
One more feature which awaits users is the possibility to translate and publish directly the text which is the integral part of a certain picture. Remember how troubling and time consuming it was to manually type in words from images or photographs? Not any more! With GlyphViewer's powerful OCR engine (supports over 50 languages, including Chinese, Japanese, and Arabic), users will never have to suffer through this process again!
In this way, GlyphViewer strongly contributes to the business expansion plans of its users. Users of the application will be able to deliver their message from the certain text within an image on their site to the different countries and various cultures.
All you need to do is check out our Bitsdujour purchase page, download the GlyphViewer application and follow the steps shown there.
About GlyphViewer
GlyphViewer is a revolutionary Translation Tool that helps its users build translations and export them from a multitude of languages, including Ancient Egyptian Hieroglyphs. In addition, this great application can be used for the modern languages which use symbols in their alphabets, such as Chinese for example. GlyphViewer enables its users to unlock the meaning of ancient languages that use pictograms with ease and comfort. Please visit 2Glyph.com library section for some interesting examples.