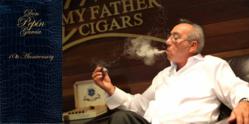 "Pepin" represents the pride and heritage of the Cuban legacy of producing the worlds greatest cigars.
Alpharetta, Georgia (PRWEB) June 03, 2013
For the first time in more than a decade, he will be in Atlanta, Georgia in part to celebrate the 10th anniversary of My Father Cigars at Cutter's Cigar Emporium on Friday, June 7th (3 p.m.-midnight). Attendees will also have the opportunity to interact and discover what Cutter's owners, business partners Russ Sutton and Kirk Nowery have learned about this incredibly passionate tobacco grower, master blender and cigar producer...."Pepin" represents the pride and heritage of the Cuban legacy of producing the world's greatest cigars.
Recently the Cutter's Legacy Club team and owners and management of Cutter's traveled to Pepin Garcia's tobacco fields and factory in Nicaragua. They reported, "He is the hardest working man on the staff; he walks the fields and oversees every detail of putting those cigars in our hands. We were already impressed with his cigars (i.e. The #1 Cigar of 2012, The Flor de las Antillas by Cigar Aficionado) but we developed the highest respect for the character, humility and hard work of this cigar giant!" One team member, Erik Holdo said, "He loves not only every detail of the cigar business but if you could see the way the field workers, the rollers, the box builders and staff love him, you are challenged! I watched him pay attention and treat with respect every person that worked for him." That's Don Jose 'Pepin' Garcia the man.
Don Pepin started working in the cigar industry rolling cigars at the age of 11 in Baez, Cuba. He quickly was promoted to the most sought after Cuban cigars with bands like Montecristo. He became a teacher of cigar making in Cuba and today is known as the maestro of cigar rolling the most complex shapes. Smoking one of the many cigars that his factories produce is a celebration of the best things in life, success, family, loyalty, respect and honor. The result, he is in the top 25 List of Best Cigars year after year. Visit our Facebook site to see photos of the trip. https://www.facebook.com/CuttersCigarEmporium
To stand next to Don Jose 'Pepin' Garcia and smoke a cigar at Cutter's Cigar Emporium on Friday, June 7th will be a once in a lifetime opportunity. The night will sound with the best live Cuban music, latin pork will be on the grill and the smell of the world's finest cigars will be in the air.
Cutters Cigars is located at: 5530 Windward Parkway, Suite 200-B Alpharetta, GA, 30004
This release was submitted by Click Ready Marketing, a prominent SEO Company.