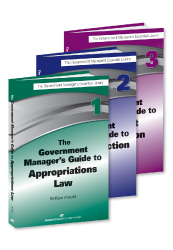 Tysons Corner, VA (PRWEB) June 04, 2013
Management Concepts Press announces the launch of an important new book series written especially for government managers. The Government Manager's Essential Library includes volumes on topics of importance to both the first-time manager and the seasoned professional.
The stand-alone books offer practical advice so that managers have a ready resource when encountering issues common to the federal environment. Together, the books form a core reference library where federal managers can access quick and reliable guidance.
The first three books in the series, The Government Manager's Guide to Appropriations Law by William Arnold, The Government Manager's Guide to Source Selection by Charles Solloway, and The Government Manager's Guide to Contract Negotiation by LeGette McIntyre, are now available. Soon to follow will be volumes on plain language, the work breakdown structure, strategic planning, project management, leading teams, earned value management, statements of work, and contract law.
Each book is written by an authority in the field and addresses basic issues on topics that a federal manager—at any level—deals with. Terms are clearly explained and specific tips are called out to highlight the most important concepts. Practical, concise, easy to access, and designed specifically for federal managers, these books are truly an "essential" resource.
For more information on these books and all Management Concepts Press publications, please visit http://www.ManagementConceptsPress/GMEL.
For review copies or other questions about Management Concepts Press, please contact Mary Cowell at mcowell(at)managementconcepts(dot)com.
Management Concepts Press is a division of Management Concepts, Inc., training, consulting, and publishing company.
The Government Manager's Guide to Appropriations Law, by William Arnold, © 2013, 7" x 10" softcover, 144 pages, ISBN 978-1-56726-402-9, $36
The Government Manager's Guide to Source Selection, by Charles Solloway, © 2013, 7" x 10" softcover, 189 pages, ISBN 978-1-56726-401-2, $36
The Government Manager's Guide to Contract Negotiation, by LeGette McIntyre, © 2013, 7" x 10" softcover, 122 pages, ISBN 978-1-56726-412-8, $36