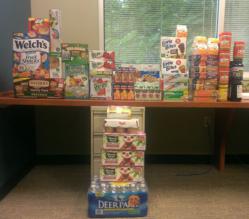 Action Ministries' Smart Lunch, Smart Kid program is one way for our firm to give back to the community that has been our home for over 27 years."
Duluth, GA (PRWEB) June 05, 2013
During the month of May, Atlanta fire protection engineering firm, Harrington Group, Inc., collected food and supplies for Action Ministries' "Smart Lunch, Smart Kid" hunger initiative. The program provides children who receive free or reduced-price lunches during the school year with access to healthier lunches during the summer, as research indicates that proper nutrition during childhood plays an important role in physical and mental health. Last summer, Action Ministries provided more than 117,000 lunches to Georgia's hungry children and are hoping to double their impact this year.
Based in Gwinnett County, Harrington Group directed its efforts in collecting food and supplies for Action Ministries' Lilburn and Stone Mountain program, which will feed over 250 children Monday through Friday from June to August. Items collected have included sandwich bags, salty snacks, juice boxes, water, fruit snacks, and peanut butter and jelly.
Harrington Group CEO and Founder, Jeff Harrington, stresses the importance of the firm and its employees getting involved in giving back and participating in the local community. "One of our core values is to satisfy the needs of others to a high degree through providing exceptional service," Harrington states. "Providing service not only refers to providing customer service to our clients, but also to serving those in the community by way of helping those in need. Action Ministries' Smart Lunch, Smart Kid program is one way for our firm to give back to the community that has been our home for over 27 years."
Established in 1986 by Jeffrey L. Harrington, P.E., FSFPE, Harrington Group has become one of the most experienced and respected practices dedicated to fire protection engineering headquartered in the southeast. The firm is committed to providing its clients with creative solutions, while optimizing the relationship between cost and benefits.