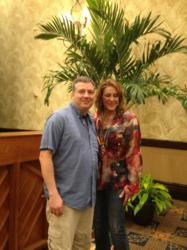 "If you have bad credit, then you need to find the Credit Repair Network" Josh Caldwell President of Caldwell Holdings
Pittsburgh, PA (PRWEB) June 06, 2013
The Western Pennsylvania Real Estate Investor's Association is announcing the addition of Paul Ritter President and CEO of the Credit Repair Network as the keynote speaker for the Pittsburgh based groups July meeting. Paul has helped many people across America to improve their credit scores On average the customers of the Credit Repair Network saw an increase in their credit scores by 85 points in six months. An increase of that magnitude can be the difference between being a home buyer and being a renter for life.
Paul Ritter's company has done a lot of work for the members of the Pittsburgh based investment group. The twist is that it is not the investors who are in need of credit repair but the people who want to buy houses from the investors, who need Paul's services. Many investors use credit repair as part of their exit strategy. One of the hardest parts of rehabbing and flipping a house in today's real estate market is finding a qualified buyer who can go to a bank and get a mortgage. Without buyers, real estate investing becomes very one dimensional. In the modern world of banking, a borrower needs at least a 640 credit score to get a loan.
The Federal Government dictates the rules to the banks, so there is no discretion at the bank manager level. People who don't have the qualifying score are just on the outside looking in. That is why the industry of credit repair came into existence. Along with many legitimate service providers like the Credit Repair Network, there are a lot of fraudulent and useless companies out there that claim to do credit repair. There is no licensing requirement to start up a credit repair company. That is why the WPREIA uses a proven and legitimate company like Paul Ritter's.
At the Pittsburgh meeting, Paul will be sharing some of his success stories and the tricks and techniques of credit repair that he has used to help his diverse client group to become home owners. The Credit Repair Network specializes in helping people who are going through a divorce, people who have filed bankruptcy, of people who have credit problems because of job loss or medical bills.
The Western Pennsylvania Real Estate Investor's Association is a loosely affiliated club of investors from Pittsburgh, PA and surrounding areas, with members as far north as Erie, PA and as far south as Southern West Virginia. The club meets every third Tuesday, in Green Tree, PA, at the Doubletree Hotel. The meeting starts at 7:00 p.m. sharp and continues until 9:00 p.m. First time guests are welcome to attend for free. For directions call 412 761 7342. This Event will be co-sponsored by Internet Marketing firm Zebulon Technologies.