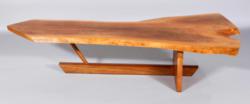 Beverly, MA (PRWEB) June 04, 2013
A beautifully carved walnut coffee table from the maker George Nakashima is poised to be the top lot of this weekend's 20th Century Decorative Arts and Modern Design sale at Kaminski Auctions. The remarkable table was made as part of Nakashima's Conoid Collection and features a solid walnut plank supported on an angular leg and board. The elegant and streamlined design emphasizes the natural and unique beauty of the wood--a concept central to Nakashima's philosophy.
Since the 1940s George Nakashima's woodworking has focused on perfecting and elevating the natural beauty of the tree. His designs pioneered the "free edge" esthetic, in which the exterior edge of the board is left unfinished, highlighting the natural irregularities of the tree. It was these natural irregularities that most captured Nakashima's creative interest. For this reason, he worked primarily with walnut, incorporating into his designs the intense "figuring" made by the irregular grain of the wood.
The table at Kaminski features a unique walnut board from what Nakashima considered one of the most intriguing parts of the tree. Called the "crotch," this is the spot where a large branch diverts from the trunk causing the dynamic "figuring" Nakashima's furniture is known for. The variation in grain and color, as well as the linear contrast between the natural and finished edges give the table a highly sculptural level of visual interest.
In addition to this visual beauty, the coffee table has historical interest as well. Two polaroid photographs documenting the creation of the table, and hand drawn plans for the design add to the unique value of this Nakashima piece. This coffee table from Nakashima's Conoid collection will be offered at Kaminski's 20th Century Decorative Arts and Modern Design Auction as Lot 1397, on Sunday, June 9th. The exquisite coffee table is predicted to bring between $12,000 and $15,000.
KAMINSKI
Kaminski Auctions, located on the North Shore of Boston, has been serving the New England antiques market for over 25 years as a full service auction house and appraisal service for fine art, antiques and estates.
With two locations in Beverly, Massachusetts, including a new state of the art auction gallery located at 117 Elliott Street, and a historic 1850's barn and office facility at 564 Cabot Street, Kaminski Auctions hosts 25 auctions a year.
In today's highly competitive market of fine art and antiques, Kaminski Auctions provides its customers with bicoastal services and marketing with west coast offices in Beverly Hills and San Diego, California.
Kaminski Auctions offers specialty departments in Asian Art and Antiques, Silver, Glass and Lamps, Couture and Vintage Clothing, Photography and Modern Design . We have highly trained and knowledgable appraisers on staff that will help you determine the true value of your antiques, or entire collections. Free Appraisal days are offered every Tuesday from 10:00am-4:30pm at our 564 Cabot Street location in Beverly, Massachusetts & by appointment at our 5171 Santa Fe Street location in San Diego, California. We welcome emailed photos of your items! Contact Harry Morgan - hmorgan(at)kaminskiauctions(dot)com