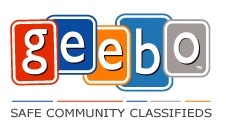 We're pleased to be sending a check to the Salvation Army of Oklahoma City
(PRWEB) June 11, 2013
A helping hand can come in many forms. First responders pull survivors from the rubble, neighbors help each other scour the debris for keepsakes, and strangers from thousands of miles away open their hearts and wallets.
In the wake of the recent tornadoes that ravaged Moore, Oklahoma and other surrounding Oklahoma communities, online classified and community site, Geebo, took to the web to raise funds for the Salvation Army of Oklahoma City and remind everyone affected that they are not alone. The outpouring of support was and continues to be nothing short of amazing.
On May 22, 2013, Geebo posted one of the most powerful storm aftermath photos, that of a horse being led out of the rubble, to its timeline with a caption promising to donate $1 to the Salvation Army of Oklahoma City for each like the post received. The caption read "Let's help out with Oklahoma's recovery! Simply LIKE Geebo's page and we'll donate $1 on your behalf to The Salvation Army Oklahoma City -----------------------> http://tinyurl.com/pejuudt ." In less than 24 hours, $1,200 had been raised.
"As an online classified site, Geebo understands the reach of social media. The power of that reach, however, has never been more firmly illustrated than during the last two weeks. What started as a small way for Geebo to show its compassion and provide local economic support to the Oklahoma City area, quickly grew into an opportunity to make more of a difference as more people saw and shared our post. We're pleased to be sending a check to the Salvation Army of Oklahoma City for whatever the final tally of "likes" ends up being. To help in any way is a privilege," states Geebo founder and CEO, Greg Collier.
To date, Geebo's picture and post has been "liked" by 2,998 people and shared 60 times. Presently, Geebo is scheduled to donate more than $3,000 to Oklahoma City's Salvation Army to assist with relief efforts. But, Geebo has not yet set an end date for the campaign for the Salvation Army of Oklahoma City. To keep the total growing or to see the image, click here. Each dollar has the ability to go quite a long way.
The Salvation Army is an international organization which operates in 124 countries. Its central Oklahoma location has been existence since 1891. The Salvation Army of Oklahoma City provides aid, shelter, food, hope, prayer, and companionship to those in need. The central Oklahoma location has two emergency shelters, five senior centers, a food pantry, a food kitchen, two Boys and Girls Clubs, and social services. To learn more about Salvation Army of Oklahoma City, please visit: The Salvation Army Central Oklahoma Area Command.
About Geebo
Geebo is an independent U.S. online classifieds marketplace based in McLean, VA. Founded in 2000 by entrepreneur Greg Collier as a site for promoting job listings and other services in the Sacramento, CA region, Geebo has grown into a national site that's populated, in part, via partnerships with specialty advertising sites, as well as free listings posted by private individuals. For more information, visit Geebo.com.