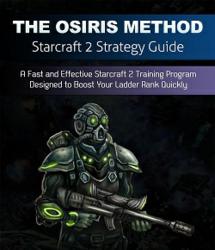 (PRWEB) June 03, 2013
The Osiris Method is not just a Starcraft 2 strategy site or guide, but rather a training manual and practice regimen. Months in the making, this strategy site is designed to help Starcraft 2 players of all skill levels increase their ladder rank in a smooth and efficient manner. Rather than presenting Starcraft 2 players with generic strategies in a self-taught manner like other Starcraft sites, newly released Osiris Method provides players with a step-by-step training program that players can follow from start to finish.
While a practice regimen and training program for a video game might seem silly to outsiders, The Osiris Method fills a major need in the Starcraft 2 community due to the built-in rankings system. In order to promote even matches, players are constantly ranked in a "ladder" system. Winning games allows players to climb higher on the ladder, while losing games causes players to get knocked down a few rungs.
Outside of the game, players gather on community sites like streaming websites or discussion boards. On these websites, players interact and talk with one another about their mutual interest in Starcraft 2, discuss pro tournaments, and go over strategies. Having a high ladder rank can be seen as a source of pride and commands instant respect in these social circles. On the other end of the spectrum, players that have a low ladder rank are not taken very seriously and can be ostracized from the group.
The mistake most players make when trying to improve is simply spending time playing 1v1 ladder games over and over. The problem with this approach is that it does not work for everyone, as as evidenced by the large number of low-ranked players who peruse community despites, failing to increase their rank despite their sincere and repeated effort.
Some players fail to improve in rank when playing ladder games because their entire approach to playing Starcraft 2 is wrong. The Osiris Method takes a new approach, giving players a training program that they can follow along with rather than going over generic strategies and then asking players to learn the game on their own. This guided instruction approach is a much more effective method of getting better at SC2 and improving ladder rank.
The Osiris Method is now available for download at http://www.osirismethod.com/. Additional information on The Osiris Method is available at http://www.osirissc2guide.com/the-osiris-method.html.