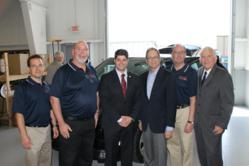 Middletown, CT (PRWEB) June 05, 2013
MHQ is proud to announce the opening of their brand new facility located at 750 Newfield Street, Middletown CT. Previously located in West Hartford, MHQ celebrated the new Middletown facility with an Open House, held on Thursday, May 16th. Both the mayor of Middletown, Daniel Drew and the President of the Middlesex County Chamber of Commerce, Larry McHugh were in attendance.
MHQ is a regional upfitter of municipal vehicles including, police, fire, public works, construction and other public service agencies throughout the Northeast and holds multiple Connecticut State contracts.
The new facility is four times larger than MHQ's previous West Hartford location, featuring 13,500 square feet of install space (capable of holding up to 20 vehicles), a fully stocked parts warehouse, wash bay, state-of-the-art training and sales centers and a secured, outdoor storage area that can hold over 300 vehicles. The new facility also has a fully functioning vehicle lighting showroom and retail store carrying the industry's leading equipment and gear.
For more information please visit http://www.mhq.com
Attached Photo: (Left to Right): Eric Withers, Marketing Director, MHQ, Frank Orlando, Operations Manager, MHQ CT, Mayor Dan Drew, City of Middletown, Charles Ribakoff, Chairman, MHQ, Bill Kieckhafer, Chief Executive Officer, MHQ, Larry McHugh, President, Middlesex County Chamber of Commerce