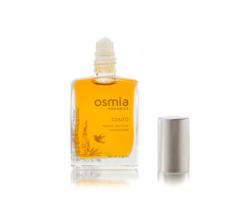 Carbondale, CO (PRWEB) June 03, 2013
For centuries, perfumers have been intrigued by the smell of leather - comforting, exotic, sensual, warm, and right on the line between masculine and feminine. A pair of brand new boots, or an old, leather-bound book, or a pair of gloves worn thin by physical work - all of these are held together by the primitive, softly sweet smell of leather. Ironically, the concept of a leather scent arose from the need to perfume leather gloves in the 16th century in France, when the tanning process left leather with a pungent, harsh odor. Precious oils such as rose, musk, and ambergris were then used to mask that odor. Eventually, as the gloves were worn and the oils were heated and combined, the concept of a leather perfume was born.
For Osmia Organics founder, Dr. Sarah Villafranco, the concept of a leather scent arose when she unintentionally got a leather bracelet wet. She was intrigued by an intermittent, mystery scent as she worked that day, and finally realized it was the wet leather bracelet she was smelling. She began work on Couro that day. Says Villafranco, "Creating a modern leather scent with only natural essences was a challenge I couldn't resist - my brain kept rearranging the formula in my sleep, and I tweaked it for months until it was right. I wanted a perfume that would be somewhat masculine, but still completely alluring when worn by both men and women."
Today, Osmia is releasing the new, natural perfume. Oud, or agarwood, is one of the world's most precious and costly fragrance ingredients, long revered as a sacred oil for use in anointing blends. Couro combines oud with amber and tobacco notes, for a lusty, sweet, leathery base. Bulgarian Rose absolute rounds out the center of the scent, and top notes of saffron and black pepper add a gentle spice. The scent, based in organic grape alcohol, resides somewhere between male and female, perhaps more on the masculine end of the spectrum, but still appropriate for women who prefer a more gender-neutral perfume. All of Osmia's natural perfumes are cruelty-free, and made with essential oils, CO2 extracts, and absolutes (see article explaining these here), and never contain synthetic or chemical fragrance.
Couro is priced at 150.00 for a 0.48 ounce bottle, pictured above. Samples of all Osmia's natural perfumes are available for purchase on the website.