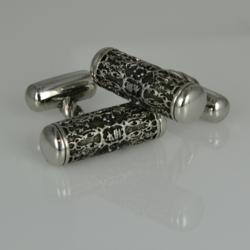 Las Vegas, NV (PRWEB) June 03, 2013
http://www.novelldesignstudio.com
Novell Design Studios leads the pack in Platinum Innovation Awards. For the second year in a row Novell Design Studios wins The Buyers' Choice Award for Platinum's Men's Jewelry at the recent Platinum Innovation Awards. Novell Design Studio which has been in business since 1987 and highly regarded for its wedding band business took an unexpected twist by submitting a design outside the bridal and engagement category. In April, the company submitted a pair of etched and inscribed platinum cufflinks.
The Platinum cufflinks were a collaborative effort, designed by Managing Partner Bruce Pucciarello and his colleague Joe Sorrentino of Novell Design Studio. Both men have over 30 years experience in the Jewelry industry. Bruce Pucciarello of Novell Design Studio spoke recently about the design of the cufflinks " The design incorporates a Gothic motif we have previously used in our Tatu Men's band Collection, The cufflinks feature glints of black diamonds across the surface as well as Asian characters that stand for Peace and Happiness, an emblem often incorporated by Joe Sorrentino."
Stage One of the competition took place in New York City in early May. Leading industry editors for both trade and consumer publications were invited to vote for their favorite designs in a blind competition. Platinum Guild International (PGI ) partnered with wedding and event planner and style expert Colin Cowie. The platinum cufflinks caught Cowie's attention and Cowie selected the platinum pair of cufflinks as one of only thirteen Platinum Jewelry Must-Haves!
The Platinum Innovation Awards celebrates its fourth year of calling for entries for the most innovative platinum bridal and fashion designs in a show-wide competition at the Annual JCK Jewelry Show in Las Vegas from May 28th to June 3rd This year PGI revealed new designs in seven categories including:

Platinum Engagement Ring
Entry Platinum Engagement Ring
Platinum Wedding Bands
Platinum Men's Jewelry
Entry Platinum Fashion Jewelry
Platinum Red Carpet Jewelry
Platinum and Colored Gemstone Jewelry
All of the designs can be viewed at:
http://www.facebook.com/jewelryplatinum http://www.preciousplatinum.com/Colin_Cowies_Platinum_Jewelry_Must_Haves
The voting and selection process for the awards consisted of two rounds of voting, the first at the aforementioned editor's event and the second by popular demand amongst those attending the JCK show. JCK's official PGI Prize Patrol announced Novell Design Studio's Award at their booth in the Luxury Salon of the show on Sunday, June 2nd.
# # #
About The 2100 Group: The2100 Group is comprised of several established and highly regarded industry entities includes: Novell Design Studio, Lieberfarb, Robert Manse Designs, Novell/Leibish,Wright & Lato, Susan Blake and its newest entry designerWORX. The 2100 Group is situated in New Jersey just across the Hudson from New York City. The group prides itself on the fact that the vast majority of the jewelry it sells, is Made in America in its own factory-using skilled American artisans.
About Novell Design Studio
Novell Design Studio stands for innovative design in the bridal jewelry category. For over twenty years, the company has customized its designs to suit the needs of its clientele. Novell believes that no customer should have to settle for what is on the shelf. Novell is determined to cater to every individual taste, each particular need and all the varying and diverse lifestyles of its clients. Novell prides itself upon ability to manufacture any of their wedding band styles in a multitude of variations—wide or narrow, in any of the precious metals (Platinum, Palladium or Gold), with distinctive finishes and banding and with or without diamonds. Novell wedding bands are sold at over 1,000 authorized retailers nationwide. Novell Design Studio knows…no boundaries—American Designed and American Made.
http://www.novelldesignstudio.com
Facebook: https://www.facebook.com/NovellWeddingBands
About Platinum Guild International (PGI):
Platinum Guild International is dedicated to promoting platinum and its pure, rare and eternal qualities to the consumer and the jewelry trade. PGI has offices in the US, China, Japan, India and London, providing information, assistance and education on all aspects of platinum jewelry. For more information please visit
PGI-USA's consumer site: http://www.preciousplatinum.com
PGI-USA's press site: http://www.pgi-press.com
PGI-USA's Facebook page: http://www.facebook.com/jewelryplatinum
About Colin Andrew Wilkie Cowie (born 3 January 1962) is a South African lifestyle guru and party planner to the stars, television personality and writer.Cowie was born in Kitwe, Federation of Rhodesia and Nyasaland (now Zambia), but educated in South Africa.[2] He moved to the United States in 1985. He is also an acclaimed interior designer. Cowie regularly appears on the Today Show, The Oprah Winfrey Show and The Ellen DeGeneres Show. He was a contributing family member to the CBS Early Show for 8 years and is currently host of the daily wedding planning show, Get Married on Lifetime TV.. Cowie has been profiled and quoted extensively in many periodicals, including The New York Times,People, Architectural Digest, In Style, Town & Country, Us Weekly, Reader's Digest, USA Today, TV Guide, The Los Angeles Times,Modern Bride and the Chicago Daily Herald.
He has written eight books, including five wedding books (Colin Cowie Weddings, For The Bride, For The Groom, Extraordinary Weddings, Colin Cowie Wedding Chic), two entertaining cookbooks (Effortless Elegance, Dinner After Dark) and a book on living with style (Colin Cowie Chic), and three on design.