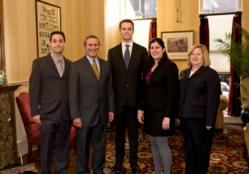 (PRWEB) June 05, 2013
The Law Firm of Pozzuolo Rodden, P.C., Philadelphia Estate Planning Attorneys, announces the upcoming in person or via webcast seminar titled: How Middle Income Families Should Prepare For Retirement Including Ethics" on Wednesday, June 12, 2013. If you would like to read more of what the seminar will cover, please read the full description on the Pozzuolo Rodden, PC web site under Seminars: http://www.pozzuolo.com
How Middle Income Families Should Prepare For Retirement Including Ethics
By: Joseph R. Pozzuolo, Esquire and Jeffrey S. Pozzuolo, Esquire
Pozzuolo Rodden, P.C.
Course Description and Learner Objectives:
Among the myriad of informative discussions, this class will touch on: marital and non-marital planning; planning for children and grandchildren; conflicting state laws regarding planning; estate and gift tax considerations and their respective exceptions and deductions; life insurance; social security disability; and, other issues where experience and expertise can help professionals distinguish themselves. 1. Determine, "What does Social Security really do and what are the benefits?"; 2. Optimize your Life Insurance assets and taxation planning strategies; 3. Review the general rules of taxation in retirement planning and identify opportunities to offer meaningful and unique counsel; 4. Consider death taxes, wills, trusts, probate issues, living wills and advance healthcare directive as they apply to retirement planning questions; 5. Identify and distinguish the varying forms of the General Power of Attorney; and, 6. Discuss the ethical considerations pertinent to offering competent counsel and avoiding sanctions.
If you would like to read more of what the seminar will cover, please read the full description on Pozzuolo Rodden's web site under Seminars: http://www.pozzuolo.com
Pozzuolo Rodden, P.C. provides specialized cost-effective legal services to privately held business owners and high-net-worth clients in Pennsylvania and New Jersey in excess of 35 years.
Practice Areas:
Business planning and transaction, complex business litigation, commercial real estate and development, construction law and litigation, advanced estate planning and administration, tax and pension law, high profile and intricate family litigation, and employment law and litigation.
Pozzuolo Rodden, P.C.
Counselors at Law
2033 Walnut Street
Philadelphia, PA 19103
215-977-8200
http://www.pozzuolo.com