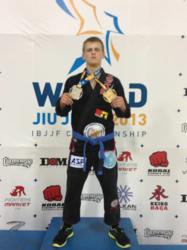 "Winning Worlds at blue belt is the biggest goal of my life that I have accomplished so far." - Devon Delbrugge
Elkridge, MD (PRWEB) June 03, 2013
Crazy 88 competitor and coach Devon Delbrugge fought his way to the top of the medal podium at the World Championships in Long Beach, CA on Thursday, winning the blue belt middleweight division (~181 lbs weight limit). He also took silver in the blue belt open weight class.
The World Championships provides a stage for the toughest competitors in the sport to put their technique to the test at the California State pyramid in Long Beach, California. Put on by the International Brazilian Jiu Jitsu Federation, the "Worlds" is the fourth and biggest of the "Grand Slam" tournaments held each year.
"On his way to the gold medal at Worlds, Devon avenged previous losses and took out the current Brazilian Nationals and European Open champions," says Julius Park, his teacher, and owner of Crazy 88 BJJ in Elkridge, Maryland. "Now it's time to get back to the mats to train and prepare for next season."
This was Delbrugge's second time at the top of the podium this year at the Long Beach pyramid -- he also won double gold at No Gi Worlds in November, conquering his blue belt middleweight division and also the blue belt absolute.
"Winning Worlds at blue belt is the biggest goal of my life that I have accomplished so far," Delbrugge said after winning the gold. "I finished the season with two gold medals at No Gi Worlds and one gold, one silver at Gi Worlds. Back to the mats to fix the mistakes."
Devon, who is 19 years old, has been training for four years. He was brought to Crazy 88 by his big brother Jon Delbrugge, a purple belt coach and competitor in BJJ and Mixed Martial Arts who has placed multiple times at Grand Slam tournaments himself.
"I am so proud of my brother," Jon Delbrugge says. "One of the best things about Crazy 88 is that we are an academy producing champions on the world's biggest stage... and at the same time, we are a place where those who don't care about competing and just want to train, have fun and master jiu jitsu can find a home as well."
If you're interested in Crazy 88's 30 day free trial for kids or adults No Gi, BJJ, Muay Thai Kickboxing or Mixed Martial Arts in the Baltimore area, please call (443) 283-1450 or visit http://www.crazy88bjj.com