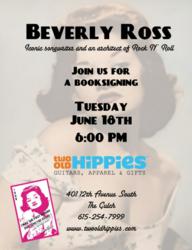 "I kept hearing all her great stories from the Tin Pan Alley days, and after she told me her title, I stayed on her until she started writing her book."
Nashville, TN (PRWEB) June 03, 2013
Beverly Ross, iconic songwriter of classic rock 'n' roll tunes such as "Lollipop" for the Chordettes, "Judy's Turn to Cry" for Leslie Gore, and two hits for Elvis Presley, "The Girl of My Best Friend" and "Dixieland Rock" will have a book signing on June 18th 6PM at Two Old Hippies in the Gulch.
The June 18th event will be hosted by Nashville Muse founder, Doak Turner and will feature an on camera interview with Ross followed by a book signing of her tell-all autobiography I Was the First Woman Phil Spector Killed: An Autobiography in Essays of Beverly Ross, Brill Building Songwriter of "Lollipop" and a Premier Architect of Rock 'N' Roll.
Ross got her start in songwriting as a teenager in 1954 with her Top 10 for Bill Haley and His Comets' "Dim, Dim the Lights (I Want Some Atmosphere)" co-written with Julius Dixon, an African-American blues composer in NYC. The pair followed up their success by penning the now classic "Lollipop" (loll-i-pop, loll-i-pop, oh, lolli-, lolli- lolli-), which was originally released by the interracial duo "Ronald and Ruby."
"I was Ruby, and a young black kid, a neighbor of Dixon's named Ronald Gumm was 'Ronald'," says the vivacious Ross. "My mother was afraid of the violence aimed at interracial collaboration during those days, and insisted I take a stage name to record with Gumm."
Ross completed her memoir last year with the help of Nashville songwriting royalty, Amanda Williams, daughter of Hall of Famer, Kim Williams ("Ain't Goin' Down Till The Sun Comes Up," "Three Wooden Crosses.") The pair formed an LLC to self publish their joint work in early January with Williams taking the title of editor for the book, though she claims to have been more of a "wrangler" than editor.
"Beverly is a national treasure," says Williams of working with the iconic songwriter. "I kept hearing all her great stories from the Tin Pan Alley days, and after she told me her title, I stayed on her until she started writing her book."
The book signing and interview is free and open to the public at Two Old Hippies located at 401 12th Avenue South, Nashville, TN 37203 in the Gulch on Tuesday, June 18th at 6PM.
Purchase your copy of I Was the First Woman Phil Spector Killed at Barnes and Noble, Amazon.com and Two Old Hippies.