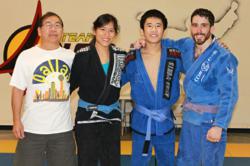 "In the semi-finals of the Worlds, Chris defeated a very tough grappler who had beaten him twice earlier in the year"
- Julius Park
Los Angeles, CA (PRWEB) June 04, 2013
Crazy 88 BJJ competitor Chris Tran opened up the first day of the International Brazilian Jiu Jitsu Federation's World Championships on a high note for his team, winning four fights for silver in his blue belt adult rooster division (126.5 lbs).
The World Championships, put on by the International Brazilian Jiu Jitsu Federation once a year in Long Beach, California, is the culmination of the gi brazilian jiu jitsu season. The fourth and final "Grand Slam" tournament, it attracts the toughest competitors in the sport from around the world.
"We are proud of Chris, who managed to make significant improvements over the course of the season. In the semi-finals of the Worlds, he defeated a very tough grappler who had beaten him twice earlier in the year," said Tran's coach Julius Park, owner and founder of Crazy 88 Brazilian Jiu Jitsu in Baltimore, Maryland.
On his way to the finals, Tran defeated experienced fighters from other respected Jiu Jitsu schools such as Atos Jiu-Jitsu and Robert Drysdale.
Tran, who is 17, has been training in Brazilian JiuJitsu since he was a freshman in high school. He won the Worlds previously as a blue belt juvenile in 2011. 2013 marked the first year he was allowed to compete in the adult blue belt division.
Tran's whole family is involved with martial arts. His father practices a variety of traditional martial arts while his sister and brother-in-law are acclaimed Brazilian Jiu-Jitsu competitors in their own right. His sister, Cathy Tran-Zwanetz, is the 2012 European and Brazilian Nationals Gold medalist. In 2010, his brother-in-law, David Zwanetz took silver in the same division that Chris competed in three years later.
Tran, known by his teammates as "Short Round" after Harrison Ford's sidekick in Indiana Jones: Temple of Doom, will soon be back on the mats training. This year, he is also graduating from high school and will attend University of Maryland - College Park in the fall.
If you're interested in Crazy 88's 30 day free trial for kids or adults No Gi, BJJ, Muay Thai Kickboxing or Mixed Martial Arts in the Baltimore area, please call (443) 283-1450 or visit http://www.crazy88bjj.com.