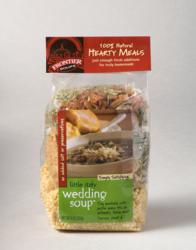 Our new four pack and Wedding Gift Basket are perfect for those who want healthy and delicious go-to meal options that offer convenience and get on the table quickly after a busy day.
Waukegan, Ill. (PRWEB) June 05, 2013
Frontier Soups™ has the solution for easy summer meals with its new Summer Four Pack of lighter, simply satisfying, all natural gourmet soups, including its popular, quick-cooking corn chowder.
In addition to the new Summer Soup Four Pack of soup mixes, Frontier Soups is introducing a new Wedding Gift Basket to get the happy couple off to a healthy start in the kitchen with three quick and easy soup meals and cornbread, said Trisha Anderson, founder of Frontier Soups. The new four pack is $17.95, a savings of nearly 25 percent, and the Wedding Gift Basket is specially priced at $48.95 through June, a 27 percent savings off the retail price.
The Summer Soup Four Pack offers warm weather favorites, Anderson said, including:

Carolina Springtime Asparagus Lemon Soup with bright, garden fresh flavor for warm weather meals. The home cook chooses fennel, spinach or asparagus as a nutritious addition to the soup, which makes an easy lunch or dinner soup meal,
Florida Sunshine Corn Chowder, which makes summer's favorite vegetable an entire meal, and may be served warm or chilled. The creamy soup can be prepared as a heartier vegetarian soup with chopped broccoli and cauliflower added to the soup mix, or scallops, shrimp or chicken may also be added.
Idaho Outpost Potato Leek Soup with the versatility to be served as an elegant creamy soup or country-style with chunky potatoes. The potato leek soup also may be served warm or chilled, and
Mississippi Delta Tomato Basil Soup, a classic family pleaser paired with a grilled cheese sandwich.
The Wedding Gift Basket naturally includes the Italian Wedding Soup, Anderson said, and also offers the company's two top sellers, South of the Border Tortilla Soup and Illinois Prairie Corn Chowder, as well as an Appalachian Trail Cornbread Mix. The white woven basket contains a stainless steel soup ladle and summertime green dishtowel as kitchen keepsakes, she added.
"Our new four pack and Wedding Gift Basket are perfect for those who want healthy and delicious go-to meal options that offer convenience and get on the table quickly after a busy day," Anderson said. "Our soup mixes include all the spices and basic ingredients needed for the dish and get their homemade taste by adding a few fresh and pantry items many home cooks already have on hand. Most are ready with about 30 minutes of stovetop simmering and also can be prepared ahead of time and ready in the refrigerator or freezer whenever needed. The soups really are a shortcut to homemade without sacrificing taste."
Frontier Soups offers 34 varieties of soup mixes, including 11 vegetarian soups or soups with vegetarian variations. Twenty-eight of the soup mixes are certified gluten free soups like chicken noodle soup, tortilla soup and corn chowder. More information about the company's products is available online at FrontierSoups.com or by calling 1-800-300-7687.
About Frontier Soups:
Frontier Soups™ has offered aspiring and accomplished home cooks a shortcut to healthy, homemade meals with 34 soups, stews, chili and chowders inspired by the finest traditions in American regional cuisine since 1986. The gourmet soup mixes, including 28 gluten free soup varieties, are available in such outlets as A Southern Season, Whole Foods, Central Market, The Fresh Market, Safeway, Great Harvest Bread Company and Omaha Steak stores, through national and Canadian distribution and online at http://www.FrontierSoups.com. The company is located at 895 Northpoint Blvd., Waukegan, IL 60085. More information is available online or by calling 1-800-300-7687.