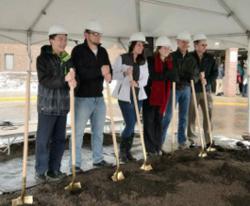 We are so very grateful for God's leading and for a sense of unity that He has created among our people and throughout the various New Life ministries. - Dave Seehusen, Church Building team member
Woodbury, Minnesota (PRWEB) June 07, 2013
Building God's Way (BGW), a nationwide church architect and builder network that provides a broad range of services to Christian ministries, announced that it has broken ground on a project for New Life Church and Academy in Woodbury, MN. BGW is partnering with Minneapolis-based contractor, D.J. Kranz Company on the project, which will include the construction of a new Family Ministry Center and the remodel / repurpose of existing classrooms, cafeteria, and gymnasium.
New Life celebrated the start of construction with a groundbreaking ceremony on Sunday, April 14, as the first visible steps of the project were being started, including a redesigned parking lot.
With a growing enrollment of 700 students this year and projections of 800 students by 2016, New Life Academy is in dire need of additional space to accommodate the demand for Christian education in and around Woodbury. The school had waiting lists in 2012 in five grades and waiting lists are already forming for the 2013-2014 school year.
New Life believes it will save nearly $300,000 by building the entire facility now vs. building over a longer span of time. The full scope of the "Unlock the Potential" Building Project and Remodel includes five new secondary and early education classrooms, newly renovated and expanded student cafeteria and commons area, renovation of a 36-year-old gymnasium and a grand new entrance for both the Church and Academy that provides an ideal 3rd place for social interaction.
Click here to see a virtual tour of the future facility http://www.youtube.com/watch?v=ZGJWo3SiD7s&feature=player_embedded
About Building God's Way (BGW) - BGW has become a recognized leader in ministry design and construction through its extensive experience in working exclusively with churches, Christian schools and colleges. Since 1998, BGW has worked with more than 600 ministries nationwide and has developed an unparalleled network of kingdom building services that includes church design, church building, church growth coaching, vision casting, capital fundraising, non-profit development, financial solutions, worship technology, mobile solutions and more. For more information, visit http://www.bgwservices.com