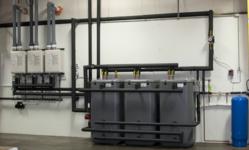 (PRWEB) June 04, 2013
Solar Usage Now (SUN) is the sole nationwide distributer of the ROTEX thermal storage tank. SUN has built a complete solar system around this storage tank, dubbed the SUN Equinox heating system. The ROTEX tank has a unique design. This tank is made from polyethylene, which can easily last 25 years or more. The ROTEX is basically a big bucket of water. Each tank can hold 1-3 internal heat exchangers depending on the system design. These heat exchangers are 0.3 mm corrugated stainless steal coils. The DHW is ran though this coil/coils and heated in a single pass. This type of tank design eliminates problems with legionella build up and allows for perfectly hygienic water to be supplied at any time. The tank is also highly insulated, experiencing a slim 3 degree internal heat loss over a 24 hour period.
The system at SUN's distribution center has been sized to provide space heating for the 22,350 sq foot building. This system uses three tanks, three heaters, and ten collectors which are mounted on the roof of the warehouse. The SUN Equinox system was implemented to replace the current gas heaters used at the warehouse with a cost effective solar thermal heating system.
SUN uses this installation as a test site as well as a display for how the system works during training sessions. This site is 1 of 14 around the nation.
For information on the SUN Equinox heating system click here. Be sure to follow us on Twitter and like us on Facebook for more updates.