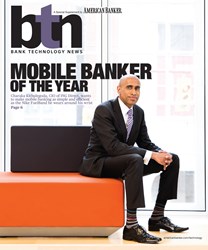 "Under Charaka Kithulegoda's leadership, ING Direct has innovated relentlessly and introduced new features like streamlined enrollment, access to mobile banking through Facebook, and voice recognition,"
New York, NY (PRWEB) June 04, 2013
Bank Technology News announced that it has named ING Direct Canada Chief Information Officer Charaka Kithulegoda its 2013 Mobile Banker of the Year.
Kithulegoda was recognized for his leadership of a team that has placed the $40 billion-asset online bank's mobile application on all major mobile platforms, pushed mobile remote deposit capture for the bank's customers; and initiated an internal, biometric pilot that utilizes smartphones.
"Under Charaka Kithulegoda's leadership, ING Direct has innovated relentlessly and introduced new features like streamlined enrollment, access to mobile banking through Facebook, and voice recognition," said Bank Technology News' Editor in Chief Penny Crosman. "Such features raise the bar for the industry by making mobile banking both more secure and more convenient."
Kithulegoda's work at ING Direct is explored in a Bank Technology News special report available online. The report, which also highlights the achievements of seven other leaders in mobile banking, is also being distributed in a special print edition to subscribers of American Banker.
Kithulegoda will be honored at SourceMedia's Mobile Banking & Commerce Summit on June 4 at the InterContinental in Miami, FL. SourceMedia is the parent of Bank Technology News and American Banker.
Bank Technology News is the leading information resource for professionals and executives focused on bank technology. It introduced the Mobile Banker of the Year Awards in 2011. Last year's honoree was Tracey Weber, Managing Director of Internet and Mobile at Citigroup.
About Bank Technology News
Bank Technology News is the technology resource of American Banker, providing in-depth news and analysis of the people, trends, innovations, and strategies that are reshaping technology at banking companies. Bank Technology News, available online at http://www.banktechnews.com, serves an elite community of I.T. professionals, as well as c-suite and line-business executives whose success depends on the effective application of technology.
About American Banker
American Banker is the banking industry's most powerful resource for news, analysis, opinion and perspective about financial institutions, regulation, risk management, bank technology and market trends.
About SourceMedia
SourceMedia, an Investcorp company, is a business-to-business media company serving the financial industry and the related fields of professional services and technology. SourceMedia offers its clients and subscribers professional information services – both print and digital – industry-standard data applications, in-depth seminars and conferences, research, and specialized marketing services. http://www.sourcemedia.com