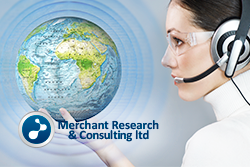 London, UK (PRWEB) June 03, 2013
Rapid growth in emerging economies, high demand from end-use sectors and high capacity of the upstream industry are among the top factors spurring growth of the caustic soda industry. However, rising environmental concerns and high energy costs are the main barriers to the industry development.
Merchant Research and Consulting Ltd., a truly global specialist in investigating all aspects of the chemical sector and related industries, is happy to offer its monthly market monitoring service covering the latest trends of the market for caustic soda.
Caustic Soda (Sodium Hydroxide) Market Monthly Monitoring Report Details:
Price: USD 250.00 (1 month), USD 2,990.00 (12 months)
Published: monthly
http://mcgroup.co.uk/monthly
Special offer:
Subscribe to one-year monthly monitoring service till June 30, 2013 and get 3 extra months for free!
Caustic soda market monitoring service covers

Key events in the caustic soda market on different geographic scales, including
Weekly product prices by region and one year historical background
Details on the latest activities of market participants, including mergers & acquisitions, new product launches, etc.
Regions Reviewed:
America
Asia & Pacific
Europe
Provisional Report Topics:
Analytics
Companies News & Press Releases
Executives & Experts
Financials
Innovations & Technologies
IPO, M&A
Market Highlights
Plants & Projects
Prices
Regulatory
Statistics
Reasons to buy:
Be aware of the latest events within the caustic soda industry.
Find out weekly ammonia prices by region and one year historical background.
Gain a competitive advantage over other industry participants by receiving data on their latest activities such as M&As, product introductions, plant startups, etc.
Discover latest regulatory changes related to the industry.
Other inorganic chemicals covered by the monthly monitoring service comprise: ammonia, chlorine, potassium hydroxide, sulfuric acid, hydrogen cyanide, ammonium nitrate, ammonium sulfate, calcium chloride, potassium hydroxide, sodium sulfate, sodium chlorate, sodium cyanide, soda ash (sodium carbonate), titanium dioxide, and hydrogen peroxide.
More information on the market monthly monitoring service can be found at http://mcgroup.co.uk/monthly