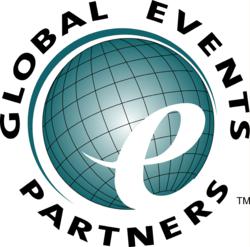 "We were delighted when two existing GEP DMC Partners approached us with these opportunities" said Chris White, Chairman and CEO of GEP.
Washington, DC (PRWEB) June 03, 2013
Global Events Partners (GEP), the leading partnership of destination management companies (DMC) worldwide, is pleased to announce that effective June 1st it has expanded its collection of GEP branded DMCs with the addition of GEP Las Vegas and GEP Orlando. This brings to 12 the number of DMCs bearing the GEP name.
"We were delighted when two existing GEP DMC Partners approached us with these opportunities," said Chris White, Chairman and CEO of GEP. "Las Vegas is one of the world's top destinations for meetings and incentives, making it of vital importance to GEP. In moving forward with a new relationship there, it was a natural for us to increase our visibility in this hottest U.S. market with a branded DMC. Great events that happen in Vegas will now happen with the GEP name on them."
"Florida is another area that is a big draw for the international meetings industry and we are excited to now have our own GEP DMC there in Orlando," White continued.
GEP Las Vegas was formed by a group of key industry professionals with a range of expert experience including Dabney Bixel, president and CEO, Bixel & Company, DMC; and Anastasia Mann, chairman and CEO, Corniche Group, a travel and entertainment management company. GEP Las Vegas is fully owned and operated by this group, and has entered into a licensing agreement with GEP to become GEP Las Vegas. Dabney Bixel has been a long time GEP Partner serving Los Angeles and GEP is delighted to expand its relationship with her and the team.
Tom Kostoff, CMP, a 30-year industry veteran, has been named president of GEP Las Vegas.
For the past eight years, he has served as a senior catering executive for Mandalay Bay Resort and Casino, Las Vegas, where his clients have included scores of Fortune 500 companies. Prior to that he worked at some of the country's finest hotels including Westin St. Francis, San Francisco; Beverly Hilton, Beverly Hills; and Eden Roc, Miami Beach. "Tom's vibrant personality and unparalleled hospitality skills will serve our clients well," White commented.
Florida Coast to Coast, the long time GEP DMC partner founded by Glenn and Kathy Duffey, is transitioning to GEP Orlando. The Duffeys have chosen to relinquish their management duties to focus on their valued client relationships, now as representatives of GEP Orlando. GEP Orlando is now owned and operated by Global Events Partners, and all Florida Coast to Coast employees will remain with GEP Orlando. "We were delighted to be able to work together to ensure the Florida Coast to Coast employees were well taken care of, and the Duffeys' legacy and strong company could continue serving the Orlando market," White said.
Other destinations in the GEP collection of DMCs are Atlanta, Arizona, Bahamas, Baltimore, Philadelphia, Savannah, South Florida, Utah, and Washington, DC, and Spain.
About Global Events Partners (GEP)
Launched in 1999, GEP includes more than 65 leading destination management companies (DMCs) around the world. A DMC is a professional service company possessing extensive local knowledge and resources, specializing in the design and execution of group tours, transportation, events, activities and program logistics. GEP partners provide consistently high quality DMC services in the most desirable locations worldwide.
Thanks to affiliations with sister companies-- Krisam Group (http://www.krisam.com/), the top independent national sales office for hotels and resorts worldwide; PRG, an industry leading production company; and Go West Creative Group, a full-service creative communications and marketing agency -- GEP offers a unique "one-stop" solution for corporate meeting planners worldwide. http://www.globaleventspartners.com
###
Media Contact: Kathleen McDermott (202) 775-5800 kathleen_mcdermott(at)krisam(dot)com