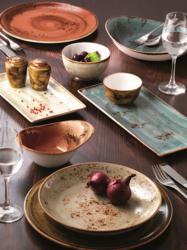 A simple but distinctive platform for the chef to display their creative flair and skill
(PRWEB) June 04, 2013
The Craft crockery collection proved to be popular at last months Caffé Culture show in London and is set to continue to be a first choice for businesses this year.
The show, which saw Stephensons showcase some of the latest product trends in the catering and hospitality industry was attended by new and established businesses looking for fresh ideas.
Craft is manufactured in Stoke-on-Trent by world leading Steelite International, who are this year celebrating 30 years of success.
The natural warmth of Craft is created with beautiful lustrous glazes applied by hand that react in the Kiln, giving naturally occurring patterns and a distinct appearance.
Craft is inspired by traditional craft potters of years gone by and offers a unique dining experience.
Head of Design and Product Innovation at Steelite International, Andrew Klimecki said: "We took inspiration from the local area and the simple country wares made by generations of potters over hundreds of years.
Craft provides a simple but distinctive platform for the chef to display their creative flair and skill."
The Craft collection is now available at Stephensons catering equipment suppliers in Stockport, offered in blue, green, brown, terracotta and grey, new for 2013.
The natural colours compliment the simple designs of the plates, bowls, cups and cookware in the Craft collection.
All items in the Craft collection are covered by a lifetime edge-chip warranty, making them worthy of everyday commercial use.
Henry Stephenson, managing director at Stephensons Said: "This commitment to quality and excellence ultimately results in pubs replacing items less often - great for your kitchen, great for your long term costs and great for the environment."
Key features include thermal shock resistance, glaze damage resistance, stain resistance and are suitable for use in the oven, microwave and dishwasher.