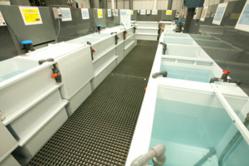 Companies such as Litron work hard to obtain this status
Agawam, MA (PRWEB) June 05, 2013
Litron announces that it has received Nadcap accreditation for chemical processing.
"We're extremely proud of the hard work our staff has put in to making sure we were ready for the Nadcap audit. Our entire team from our quality control and quality assurance group, to the workers processing our customer's parts, is committed to ensuring our processes meet the highest level of quality," says Mark Plasse, President of Litron. "We look forward to being able to use our plating line to serve a wider range of our customers programs moving forward."
Litron received Nadcap accreditation for demonstrating their ongoing commitment to quality by satisfying customer requirements and industry specifications.
"Achieving Nadcap accreditation is not easy; it is one of the ways in which the aerospace industry identifies those who excel at manufacturing quality product through superior special processes. Companies such as Litron work hard to obtain this status and they should be justifiably proud of it," said Joe Pinto, Vice President and Chief Operating Officer at the Performance Review Institute. "PRI is proud to support continual improvement in the aerospace industry by helping companies such as Litron be successful and we look forward to continuing to assist the industry moving forward."
About Nadcap
Created in 1990 by SAE Inc., Nadcap is administered by the not-for-profit Performance Review Institute. PRI exists to advance the interests of the mobility and related industries through development of performance standards and administration of quality assurance, accreditation, and certification programs as well as related activities for the benefit of industry, government, and the general public. PRI works closely with industry to understand their emerging needs and offers customized solutions in response. Learn more at http://www.pri-network.org or contact PRI at PRINadcap(at)sae(dot)org.
About Litron
Founded in 1997, Litron, Inc. is a worldwide provider of custom laser systems and a leading supplier to the aerospace, defense, and medical industries for contract manufacturing services in laser welding, hermetic sealing, and hi-rel electronic packaging.