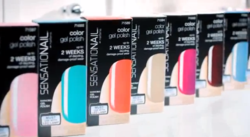 We're thrilled and honored to be assisting Pacific World and the SensatioNail Gel Polish team.

Randi Brody, Trajectory Partner
Morristown, NJ (PRWEB) June 04, 2013
"These Hands Can't Wait" is the new campaign that puts SensatioNail Gel Polish in the midst of its customers real lives – giving them the ability to do their own at-home (salon-quality) gel manicure in a way that seamlessly fits with their busy lifestyles. Several spots were developed to appeal to various demographics, including a Spanish version for the Hispanic market.
The beauty marketing campaign is the culmination of a national agency search which first began mid-year 2012 for a new creative approach and messaging strategy for SensatioNail – the first at-home salon-quality manicure process that saves women time and money. The brand promises easy application, zero dry time and up to two weeks of dazzling, damage proof wear.
Goals of the beauty marketing campaign are to effectively establish SensatioNail as the authority in the at-home gel manicure category and to drive traffic and sales through key retail partners. While the campaign will ultimately be extended across web, public relations and social media, you can see the television commercials here and here.
Randi Brody, Trajectory Partner, states "We are thrilled and honored to be assisting Pacific World and the SensatioNail Gel Polish team. The company has aggressive goals, and we're glad to play any role we can in their success."
ABOUT TRAJECTORY
Trajectory is a nationally focused branding + marketing agency creating new energy for customers, brands and businesses. It does this by helping clients across Healthcare, Health & Beauty and Leisure & Lifestyle to see and think in new ways, perform better and ignite new growth. Representative clients include Arnold Palmer Enterprises, EMA, Kate Spade New York, Orlando Health, Pacific World's SensatioNail, Palomar (PaloVia Skin Renewing Laser), Reading Health System and Renal Ventures Management, LLC. Learn more about Trajectory by contacting Eric Brody, President at 973-292-1400x201 or email him at mailto:eb(at)trajectory4brands(dot)com.
ABOUT SENSATIONAIL
SensatioNail™ is the leading at-home gel manicure system. From the makers of Nailene®, an innovator and leader in the artificial and natural nail care categories, SensatioNail™ LED technology and proprietary gel formula provides women with salon-quality results that are easy to use and affordable for everyday wear. The full product line is distributed in the United States at mass and drug retailers nationwide. The SensatioNail™ brand is owned and developed by Pacific World Corporation, located in Lake Forest, California. For more information, visit http://www.sensatioNailgel.com