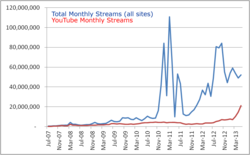 Montreal, Canada (PRWEB) June 03, 2013
WatchMojo – one of the largest independent producers of premium video content – grew its YouTube monthly streams from 3 million to 21 million from May 2012 to May 2013. Across all websites, WatchMojo generated 52 million video views during the month of May; all-time, WatchMojo has generated over 1.5 billion views of which 230 million have come on YouTube.
During May, its nearly 300,000 subscribers watched 86 million minutes of videos on http://www.YouTube.com/WatchMojo. This was up sharply from March and April, when subscribers watched 35 million and 56 million minutes of WatchMojo's content respectively.
The company has doubled its YouTube streams in two months, jumping from 10 million in March to 15 million in April 2013 and 21 million in May.
WatchMojo added 75,000 subscribers in the month and is on pace to add 750,000 subscribers throughout 2013, despite having only had 25,000 subscribers at the beginning of 2012 and crossing 100,000 in December 2012.
On the production side, WatchMojo increased its output of videos from 250 minutes to 350 minutes from April to May. The company publishes over 50 videos per month.
Since 2006, the company catalogue of over 8,000 evergreen videos has spanned:

categories including Automotive, Business & Technology, Comedy, Fashion & Beauty, Film, Health & Fitness, History, Lifestyle, Music, Politics, Science & Space, Sports, Travel and Video Games;
themes, including features like top 10 lists, biographies and profiles that cut across those categories;
its "This Day in Video" series, which retells history through video by covering the people, places and events that have shaped history and pop culture.
As a testament to the company's informational and entertainment value, WatchMojo has expanded its footprint in the education space by providing academic publishers with video programming to teach English and reinforce their traditional curriculum.
In April and May 2013, WatchMojo launched two interactive products:
the Video Suggestion Tool, which allows viewers to suggest video ideas and to vote on other viewers' suggestions.
WatchMojo Trivia, which features multiple choice and true/false questions and answers based on the company's library of 8,000 videos.
About WatchMojo
WatchMojo informs and entertains through video by covering the people, places and trends that have shaped history. The company's short-form factual infotainment programming answers questions on Who, What, Where, When and Why across thousands of topics in Automotive, Business, Comedy, Education, Fashion, Film, Food, Health & Fitness, History, How To, Lifestyle, Music, Politics, Science, Space, Sports, Urban Living, Technology, Travel and Video Games.
By providing videos to the world's largest media companies and academic organizations, WatchMojo is a leading producer of professionally produced, premium, brand-safe, evergreen videos. The company's catalogue of 8,000 videos has generated 1.5 billion video views online and billions more in out-of-home digital networks, reaching nearly 50 million consumers on over 100,000 screens worldwide in tens of thousands of retail locations.
In 2012, Digiday picked WatchMojo as one of three finalists, alongside CBS and HBO, in the Best Entertainment category at the Digiday Video Awards. Marketing Magazine named WatchMojo one of Canada's Digital Media Companies to Watch in its September 2011 issue. Ernst & Young nominated Ashkan Karbasfrooshan for Entrepreneur of the Year in its 2012 media category.
Learn more on http://www.WatchMojo.com.
###