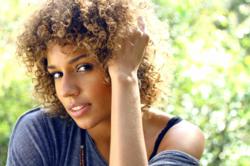 I've seen Kelly do pretty much anything she sets her mind to in this business. She's a special talent with a really incredible ability to connect with her fans
Los Angeles, CA (PRWEB) June 04, 2013
Throughout her distinguished international entertainment career, Kelly Beckett has relied on her unique ability to convey something beyond warmth and energy to the audience – it's a feeling best described as fuzzy. Be it performing beside Will.I.AM as a member of The Paradiso Girls, starring in the Brit sitcom Blessed, being featured on Style Network or G4's "Attack of the Show" or one of her many American or British TV hosting gigs, Beckett always finds a way to create that special feeling. Los Angeles based Road Games Productions' Rick de Oliveira is the latest to tap Beckett's talent and trademark head of curls in signing her to host the upcoming show Pop Vulture.
De Oliveira (The Real World, For the Love of Ray J, Prank Stars, Love Games) knew Beckett was the only woman for Pop Vulture, "I've seen Kelly do pretty much anything she sets her mind to in this business. She's a special talent with a really incredible ability to connect with her fans," said de Oliveira. Beckett is a natural fit for the pop culture show that focuses on fashion, music and celebrities. The show is set up with a $15 million budget per season and De Oliveira signed Beckett to the first two seasons with production slated to begin August 2013.
While attending performing arts school in her home country, England, Beckett signed with Simon Fuller's 19 Management (American Idol, Spice Girls) and quickly earned the lead hosting gig on S Club TV beside Holly Willoughby and Ben Barnes where she developed her hosting skills before Jimmy Iovine (Interscope Records, American Idol) scooped her up as part of the international girl group The Paradiso Girls. "It was a blast travelling around and performing every night – I really loved it. The fans are insane and so wonderful. Right now, I'm really excited about hosting TV shows and bringing new experiences to fans," said Beckett, "I'll always have music and dance in my heart."
It's rare to see talent achieve so much success on both sides of the ocean, but no one seems surprised Beckett continues to accomplish everything she sets out to. She's a total industry badass, but the fuzziest badass in the business.