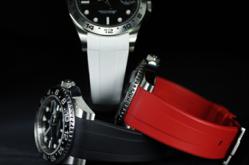 The Ultimate Rubber Strap for Rolex Sport… makes life more fun!
Miami, Florida (PRWEB) June 04, 2013
Rolex bracelets want in on the fun. In this nifty stop-motion film, 1500 colorful straps for Rolex are demonstrating the limitless activities they are designed to endure!
Made in Switzerland by leaders in the watch industry, each Rubber B model has been micro-calibrated to precisely conform to it's intended Rolex watch case and clasp with endearing perfection, using "Blocked Integration" which establishes a stealth, gap-free mount to the Rolex watch case.
In the rubber strap industry, Rubber B brand quality is on par with names like Audemars Piguet, Hublot, IWC, Louis Vuitton, and Omega. Individually manufactured and hand finished products such as a Rubber B are rare gems, in great contrast to the modern marketplace of mass produced and mediocre goods.
Rubber B, instead defers to the long-term customer experience. That is why their straps are made from the absolute highest caliber material available: pure, genuine Vulcanized Rubber, with no blends, coatings, glues, or bondings. This elevated density composite material is industry-proven for it's resistance to all environmental elements including Ozone, UV, chemicals, acids, and the aggressions of a harsh aquatic environment. With these qualities, vulcanized rubber still maintains it's supple elasticity. This is the only worthy and reliable stand-in for a factory Rolex bracelet.
As the ultimate in innovation, a Rubber B strap will outlast and outperform ALL challengers, including Nato straps, leather bands, and other rubber straps. Rubber B's direct-from-consumer reputation for enduring quality products and service, assures that time will always be on their side.
Retail boutiques are located throughout the world for local convenience. RubberB.com is also a great information resource where products can be purchased directly and shipped anywhere via UPS Worldwide Express with live tracking.
Rubber B is not affiliated with Rolex or any watch brancd. Rolex watches, likeness and logos are registered trademarks of Rolex, SA.
About:
Rubber B product lines include straps for Rolex models such as Daytona on Strap White Gold, Daytona on Strap Yellow Gold, Daytona on Strap Rose Gold, Submariner Ceramic, Daytona Oyster Bracelet, All models Submariner including 14060, Explorer (40mm), Explorer I (39mm), Explorer II (42mm), Sea-Dweller, Milgauss (40mm), GMT Master, GMT Master II, GMT Master II Ceramic, Deepsea Sea-Dweller, Datejust II (41mm), Yachtmaster (40mm), and other Rolex Bracelet models.