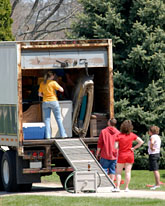 (PRWEB) June 05, 2013
Consumer preferences vary with age, even when it comes to Web-based information sources. One long distance moving company is taking note of this difference in preferences and has taken several steps to create a fully-integrated platform that delivers results based on consumer preferences and needs.
Recently, Movers.net revamped and launched its website from ground-up. From a completely new front-end interface to a powerful backend overhaul, the entire infrastructure was redesigned so that the site would be appeal to a wide range of age groups searching for long distance moving companies. In addition to front end and back end tools, the company has also integrated social media tools and extensive support and knowledge base features to help users navigate and learn at the same time.
"Customers from a wide range of age groups visit our site to research long distance moving companies. We have restructured the entire site so as to be useful to a wider audience. Younger clients want faster results and more comparison tools in a snap. We have integrated both efficiency and comparison tools to cater to this audience. Additionally, our site has a larger font size so seniors can easily read the various options and compare and research long distance moving companies. We also have several other tools for age groups that fall in between. Overall, our site is useful to practically every age group," says Matthew, an internal analyst with Movers.net.
Movers.net is a popular website that helps customers compare and research long distance moving companies. The site's overall structure and systems help clients streamline research time and find cost-effective solutions for their moving needs. From moving truck rentals to professional movers, hundreds of companies work hand-on-hand with the company to help customers save hundreds of dollars on every move. The company estimates to have saved millions of dollars during the span of its fifteen-year existence.
"We are very serious about providing affordable moving solutions to our customers and creating a site that is easily accessible to everyone enables us to serve a wider audience and help customers achieve their moving goals in a cost-effective and customized manner," says Randy Rodriguez, CEO and founder of Movers.net.
"I loved the fact that the font was so easy to read. I visited several sites and the way they had everything laid out gave the impression that the company was serious about displaying information honestly," says Mark, a senior citizen who recently utilized Movers.net to find a long distance moving company.
Younger customers appear to be satisfied with the new release as well. "I loved the fact that I could connect with my social circuit on the site itself. The reviews, ratings, and other features geared toward younger audiences were a big help," says Jill, a twenty-something who relocated recently.
For more information and to request a quote, visit Movers.net.