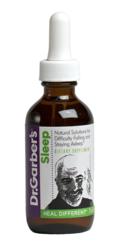 Bob Litvak, owner of Santa Monica Homeopathic Pharmacy in California, often recommends Dr. Garber's Natural Solutions for Sleep and even keeps it on his own nightstand.
Santa Monica, CA (PRWEB) June 04, 2013
Shari Barbanel, author of Vitamin Retailer Magazine's May cover story, "Relax", interviewed Dr. Stuart H. Garber, D.C., Ph.D., for expert advise on sleep disorders. These problems affect as much as 34 percent of the U.S. population - a virtual epidemic.
"Sleep deprivation can lead to serious physical health consequences," said Stuart H. Garber, D.C., Ph.D., president of Dr. Garber's Natural Solutions in California. "Regularly catching only a few hours ... can hinder metabolism and alter hormone production in a way that is similar to the effects of aging..."
Ms. Barbanel also discussed leading natural remedies to help this disorder and included the very effective ones that Dr. Garber has formulated.
"Dr. Garber's Natural Solutions formulas offer a number of products that target sleep, anxiety and depression. The company's best-selling remedy is the sleep formula, which has helped thousands get to, return to and stay asleep. The product contains a proprietary blend of English hawthorn (Crataegus oxyacantha) young shoots, fig tree (Ficus carica) buds, lime tree (Tilia tomentosa) buds, rhodonite, bulbinum, as well as glycerin, purified water and 15 percent ethanol USP."
She also interviewed Bob Litvak, owner of Santa Monica Homeopathic Pharmacy in California. Mr. Litvak keeps Dr. Garber's it on his own nightstand. "It's easy to take, tastes good and if your alarm wakes you up 20 minutes or a few hours later, you don't feel drugged or drowsy," he said.
Dr. Garber has created a unique line of biotherapy formulas that safely and effectively address many of the most common conditions while producing no harmful side effects. The product line includes remedies that help conditions such as anxiety, environmental and seasonal issues, bone strength, constipation, depression, female hormonal balance, joint issues, lung and skin conditions.
These great tasting and easy to use formulas are the first and only that exclusively combine the three biotherapies: gemmotherapy, lithotherapy and organotherapy. By combining the biotherapies in a special synergy critical to their effectiveness, Dr. Garber has been able to target specific conditions in a unique and previously unattainable way.
The safe formulas are third party certified to be in compliance with current good manufacturing practices (cGMP), are gluten free and contain no GMO's. They are as safe and effective for children as adults, and come bottled with droppers marked for easy measurement for either children or adults.
Retail representation by Brandstorm HBC (Los Angeles, CA), the remedies are available in Whole Foods Markets throughout California, Nevada and Arizona, as well as Lassen's Markets in California, Metropolitan Markets in Washington State, other retail markets here and abroad, through doctor's offices nationwide, Amazon.com and the Dr. Garber's website store.
Dr. Stuart H. Garber, D.C., Ph.D. has been practicing holistic medicine since 1981. He has lectured to medical, dental, chiropractic and acupuncture groups in the United States, Europe, Asia and the Caribbean. In 1997 Dr. Garber became the first person in the United States to receive a Ph.D. degree in homeopathy. He practices in Santa Monica, CA where he also conducts research in dietary supplements and homeopathic medicine.