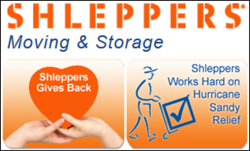 "We take every single move very seriously, regardless of the scope or price of the project, and the customer is our primary concern," said the company spokesperson
Yonkers, NY (PRWEB) June 03, 2013
Shleppers Moving & Storage has been awarded the title of Best Moving Company by the prestigious publication, Westchester Magazine.
Westchester Magazine gives residents and readers the opportunity to choose their favorite businesses in a variety of categories, and Shleppers was selected as the best in the moving and storage category. For the first time in the magazine's history, the winners of each category were selected through online ballot only, and over 215,000 total votes were cast.
All of the winners are set to be featured in the July 2013 "Best of Westchester" issue, and will also be honored at the annual BOW party, hosted by the magazine to showcase Westchester's best businesses.
Westchester Magazine is considered the area's premier publication, and caters to a range of readers, covering everything related to the Westchester lifestyle.
"We're honored to have been awarded this outstanding title as the best moving company in the county," said a spokesperson for Shleppers. "It's not only a huge honor, but it's flattering to be considered the best out of all the movers in Westchester. Additionally, it's always great to be chosen by the readers of Westchester Magazine, because it means we're well received and maintain an excellent reputation in the community."
Shleppers has been revered as the leading New York-area moving company for over three decades, and consistently sets a precedent for providing impeccable service. Shleppers conducts business differently than many other moving companies, for example not using contract workers and offering customers the choice between a flat-fee and an hourly rate for services.
Additionally, 96% of Shleppers' customers report they would recommend the company, and because of the consistent commitment to providing quality, they have maintained an excellent rating with the Better Business Bureau for over 10 years.
"We take every single move very seriously, regardless of the scope or price of the project, and the customer is our primary concern," said the company spokesperson. "We believe that's why the residents of Westchester have voted us as number one at what we do."
About Shleppers
Shleppers has been providing the residents of New York City and the surrounding areas with unparalleled moving services since 1978. Contact the company by visiting http://www.shleppers.com/ or calling (212) 223-4004.