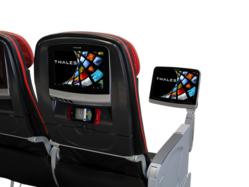 MAINtag's FLYtag, reader and software package was precisely what we needed for cost-efficiency and reliability.
Atlanta, GA (PRWEB) June 04, 2013
Making sure that in-flight entertainment systems are working properly at every seat on every plane, cabin systems supplier Thales chose MAINtag to provide a complete RFID package for their latest generation of in-flight entertainment (IFE) systems onboard all their contracted Airbus A350 XWB and A380 aircraft as well as various Boeing planes.
All new video displays and some servers will be tagged with FLYtag® nano low-memory RFID tags. The nano tags are ideal for this purpose because when a screen becomes broken it is replaced; there is no reason to spend more money on big-memory or multiple-record tags. The low-memory format delivers quick data uploads and downloads; the tags are metal compatible and support long read ranges. MAINtag's QMS and FLYtag range have been previously approved by Airbus in the frame of the A350 XWB.
MAINtag, world leader in aerospace-dedicated RFID systems, delivered Thales with a complete solution including FLYtag® RFID tags, MOBIpad AT2 reader, and FLYtag Manager (ATA Spec 2000 software). MAINtag's package also included training and education about RFID technology, design and attachment methods, aerospace RFID requirements and ATA Spec 2000 guidelines.
About the FLYtag® nano RFID tag:

ultra rugged packaging and chip designed for harsh or extreme environments and on metal
built around SINGLE/DUAL and multi-record FLYchip®
supports ISO 18000-6C and ATA Spec 2000 Chap.9-5 and Appendix 11 standards
manufactured by MAINtag to AS/EN/JISQ 9100 aerospace quality standard
compliant with AS5678 requirements as well as Airbus A350 XWB specifications
"MAINtag's FLYtag, reader and software package was precisely what we needed for cost-efficiency and reliability," said Sam Yoon, Industrialization Lead Engineer at Thales. "This FLYtag solution enabled us to fill our customers' requirements on time while assuring strict compliance with the required aviation standards. Plus, MAINtag's commitment to customer service is impressive," Yoon added.
"We are pleased that Thales has chosen MAINtag for their touchscreens at passenger seats. From life vests, seats and oxygen systems, and now in-flight entertainment systems, the potential benefits of using RFID in aircraft cabin interiors are just being realized. Teaming up with Thales helped bring innovative functionality to a growing interest in RFID for maintenance where data will come in larger volumes and accuracy of data management is essential," said Alexis Beurdeley, Vice President of MAINtag, Inc. the US-based subsidiary of France-based MAINtag.
FLYtag RFID products, chosen by more than 50 OEMs, are SAE AS5678 compliant. For more information, specifications and photos of FLYtag nano and other FLYtag solutions visit http://www.maintag.com. For information about FLYtag in the USA, Canada and South America, contact MAINtag, Inc. in Atlanta, Georgia at 404-492-6875 or americas(at)maintag(dot)com.
About MAINtag, Inc.
MAINtag, Inc. in Atlanta, Georgia, is the USA-based subsidiary of the French company MAINtag, and services the North and South American aerospace markets. Founded in 2004 for maintenance tagging, MAINtag is now the world leader in flyable RFID solutions for aerospace on-board aircraft. Through its FLYtag® brand, MAINtag maintains its commitment to stay at the leading edge of R&D. MAINtag provides the aerospace and defense industries with reliable and secure products and services that support identification and traceability of flyable parts, ground service equipment, and tooling in order to improve logistics, asset tracking and maintenance processes. MAINtag is AS9100 certified.
About Thales
Thales is a global technology leader for the Defense & Security and the Aerospace & Transport markets. In 2012, the company generated revenues of €14.2 billion (equivalent of $18.3 billion) with 67,000 employees in 56 countries. With its 25,000 engineers and researchers, Thales has a unique capability to design, develop and deploy equipment, systems and services that meet the most complex security requirements. Thales has an exceptional international footprint, with operations around the world working with customers and local partners. http://www.thalesgroup.com