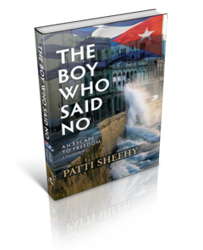 "The Boy Who Said No will grab you by the lapels and won't let you go until you finish the last sentence. Your pulse will race as Frank Mederos battles to escape Cuba — amid treachery, suspicion and suspense."
—Todd Buchholz, author of The Castro Gene
Longboat Key, FL (PRWEB) June 04, 2013
Oceanview Publishing is proud to announce the release of The Boy Who Said No by Patti Sheehy. This outstanding novel provides insight into Cuba and her people during and following the fall of Batista, and the rise of the Castro regime. The significant historical value of this story should not be underestimated, as it is based on Frank Mederos' true life story, appropriate for adult and young adult readers.
Hardcover
ISBN: 978-1-60809-080-8
Available through public libraries and your favorite bookseller
Distributed by Baker & Taylor, Ingram, Bookazine, Midpoint Trade Books, and other fine book distributors. Also available in all eBook and audiobook formats.
"The book tells the harrowing story of Frank's attempt at escape and the people around him. It's a riveting story that gives you a look into what life in Cuba became under Fidel Castro's rule. It's the story of a country Christopher Columbus called 'The most beautiful land that human eyes had ever seen.'
I would recommend this true-life novel, and am looking forward to the author's next effort."
—Suspense Magazine
"In The Boy Who Said No Frank Mederos exhibits uncommon courage in making his way to freedom. Against great odds he manages an escape worthy of the best fictional hero, only he pulled it off in real life! In telling the story, Patti Sheehy keeps the readers on the edge of their chair, rooting for him all the way."
—M Ann Jacoby, author, Life After Genius
"The Boy Who Said No will grab you by the lapels and won't let you go until you finish the last sentence. Your pulse will race as Frank Mederos battles to escape Cuba -- amid treachery, suspicion and suspense."
—Todd Buchholz, author of The Castro Gene
"The Boy Who Said No is a beautifully written story of love, friendship and adventure. The descriptions of Cuban life under Fidel Castro, as seen through the eyes of a maturing young man, are vivid and paint a clear picture of the beauty of the country, and the desperation of her people. The drama of the challenges Frank Mederos faced in his attempts to escape Cuba resonates with an underlying theme of human experience that transcends culture, country and politics. Patti Sheehy captures the passion and spirit of the times and brings it to life."
—Jonathan L. Lewis, author of I Thought We Were Happy