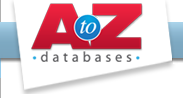 Our mission to provide the best databases to our users, complete with features that both businesses and patrons can take advantage of
San Mateo, CA (PRWEB) June 03, 2013
AtoZdatabases, the leading provider of reference & marketing databases and job searches for public libraries, academic institutions, and government agencies, has just completed an update of its business and consumer databases, including the addition of the 2010 census data. This enhancement is available to libraries at no additional cost.
AtoZdatabases has been growing rapidly since its inception. More than 1,000 libraries across the U.S. offer the application to their patrons, and since 2010, the system has seen a 400% increase in searches and downloads. The company is constantly adding new features, and the latest enhancements to its consumer and business databases are sure to provide patrons with even more valuable information.
The Triple-Verified Business Database has been updated to include 500,000 more verified businesses, along with an enhanced executive search. Updates to the consumer database include an increase from 200 million to 237 million records. Additionally, home income and home value numbers from the 2010 United States Census are now available as a part of consumer records.
"Our mission is to provide the best databases to our users, complete with features that both businesses and library patrons can take advantage of," says Rakesh Gupta, President of AtoZdatabases, "Just this year, we have made free email marketing available, updated our data to include census information, and we are continuing to innovate to serve our libraries."
For a free 30-Day trial of AtoZdatabases, please call toll-free at 877-428-0101 or email Sales(at)AtoZdatabases(dot)com.
About AtoZdatabases:
AtoZdatabases, powered by DatabaseUSA.com, is a leading provider of job searches, reference, and marketing databases for public libraries, academic institutions, and government agencies across the United States. To learn about the compilation and verification process from AtoZdatabases, watch this short video.