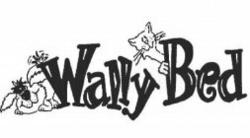 WallyBeds are produced entirely at our shop in Austin, Texas and support the "Made in America" pride that has, over the years, given way to foreign manufacturers
Austin, TX (PRWEB) June 25, 2013
WallyBed™: "The Bed Pets Love" now has a 35"x35" Hooded WallyBed. This is the largest Hooded WallyBed™ in the collection. WallyBed™ is unique to the market, because the entire bed is washable, and the client doesn't have to remove a cover. WallyBed™ Pet Beds retain their shape wash after wash.
Maxine Scott created her first WallyBed™ in 1991. She was inspired by her own dissatisfaction of products on the market that would deteriorate after one wash. Her vision was to create long-lasting and super comfortable pet beds. Twenty-two years later, she has seven product lines that include pet beds, pet accessories, furniture throws and even a kids' line called WallyKid's Pillow & Blanket Sets.
Maxine Scott says, "WallyBeds are produced entirely at our shop in Austin, Texas and support the "Made in America" pride that has, over the years, given way to foreign manufacturers." Each WallyBed™ is hand made with lots of care and passion and is personally critiqued to assure that the highest quality and durability has been sewn in.
WallyBed™ Pet Beds are garnering acclaim among pet owners and have been mentioned in three books over the past few years. One was from the book "An Affair With a House" by Bunny Williams who is one of New York's renowned interior decorators in New York. The other two were written by well-known dog breeder, champion and exhibitor, Barbara Garnett-Smith Wilson, in her books, "The Cavalier King Charles Spaniel in North America" and "The Cavalier King Charles Spaniel, In Fact and Fancy."
There are a variety of colors, fabrics and styles, and are designed with specific breeds and sizes of pets in mind. WallyBed™ Pet Beds are growing in popularity both nationally and internationally for their quality products and appeal to dogs and cats. Visit WallyBed.com for more information.