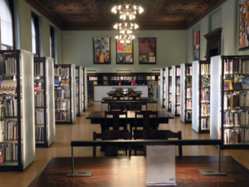 Sleek interior spaces really do require smartly planned storage solutions
Fort Atkinson, Wisconsin (PRWEB) June 05, 2013
Visit the Spacesaver showroom in space 11-117 at Chicago's Merchandise Mart during NeoCon 2013, June 10th-12th, and learn how sleek spaces require smart storage products like the FrameWRX® Storage System and the ActivRAC® Mobilized Storage System. Spacesaver will also be featuring some key projects that showcase smart storage solutions, one being the St. Louis Central Library in St. Louis, MO.
"Sleek interior spaces really do require smartly planned storage solutions that either free up space by reducing the storage footprint they require, or actually enhance the space through their unique aesthetic," says Julie Weber, Marketing Communications Specialist for Spacesaver Corporation. "Our featured projects and products this year really focus on that concept."
Featured Project
The St. Louis library's collection, made up of almost four million items, was originally stored on an old self-supporting structure, ten tiers high. As part of the renovation, the space was opened up, much of the collection was moved into high-density storage systems and the rest was left exposed behind glassed-in enclosures.
The collection was condensed onto three floors, vs. the ten, due to the use of high-density mobile storage both onsite and offsite, creating more room for other repurposed spaces in the building, like collaboration areas. Colored and backlit glass end panels were used throughout the public spaces to enhance and add to the unique look of the interior. This is a true example of smart storage used to create a sleek space.
Featured Products
FrameWRX Storage System: At the heart of the solution is EZ Rail® technology. This advanced rail system, which attaches to the frame and gives the FrameWRX Storage System an unmatched degree of flexibility and configurability. With EZ Rail, the storage solution accommodates a variety of storage accessories, can also be easily configured with customized options, such as work surfaces, shelving, canopy tops, and end panels in a broad range of colors, textures, and materials to change the look and functionality of the system even more precisely to meet specific needs of the environment.
ActivRAC Mobilized Storage System: With this mobile industrial storage system, otherwise stationary (or fixed) sections of four-post bulk racking, cabinets, shelving or even pallet racking are mounted on the carriages, which travel on steel rails. By moving rows of storage from side to side, the patented-pending system is able to eliminate space-wasting, idle aisles and "compress" (or compact) the stored materials into a much smaller footprint when compared with a stationary system – yet provide 100 percent access whenever needed.
The carriages are engineered to accommodate most existing four-post bulk racking and shelving, and is rated to a total weight capacity ranging from 7,000 – 30,000 lbs, depending on the system. Up to three carriages can be placed in line and moved by turning the handle. Safety features include an adjustable drift-brake to prevent unintentional movement and an aisle lock out pin for securing the handle when entering an aisle.
To learn about these and more space-saving solutions from Spacesaver, visit with one of our storage specialists in showroom 11-117 at NeoCon 2013. Sparkling wine will be served on Monday June 10, from 3-5pm.
Spacesaver Corporation is the industry leader when it comes to High-Density Mobile Storage; secure storage, locker storage, cantilever shelving, and other shelving solutions. Whether you're in need of library shelving, office storage solutions, military storage, museum storage, evidence storage, sterile healthcare and pharmacy storage, or mobilized industrial storage solutions, Spacesaver has a nationwide network of local authorized representatives, The Spacesaver Group, who sell and support their industry-leading, innovative storage solutions. Celebrating 40 years of success in 2012, Spacesaver continues to produce storage and shelving solutions that are designed and manufactured to save space, time and resources for our customers while increasing efficiency, cost-savings and security. Spacesaver is a division of KI located in Green Bay, Wisconsin. For more information visit http://www.spacesaver.com
About KI
Spacesaver Corporation is a division of KI (Green Bay, Wis.). KI manufactures innovative furniture and movable wall system solutions for education, healthcare, government and corporate markets. KI tailors products and service solutions to the specific needs of each customer through its unique design and manufacturing philosophy. Visit http://www.ki.com to learn more about KI products and solutions.