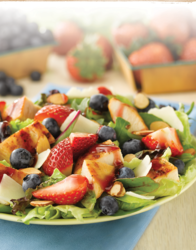 New York, NY (PRWEB) June 03, 2013
Spring and summer are the seasons of freshness, which means now is the perfect time to get in gear by adding more greens to freshen up your diet — especially on the go. According to QSRweb.com, "When 2013 restaurant trend predictions began pouring in, 'healthier options' (or something of the like) was a recurring theme." And with warmer weather on the way, more people will find themselves on their feet, out of their homes, and away from their kitchens. So, for consumers looking for better meal options (at home or on-the-go), need help figuring out ways to get their families to eat their greens, or advice to stay energized throughout future heat waves, nationally recognized expert and spokesperson on nutrition and health promotion, Tara Gidus, has partnered with Wendy's Garden Sensations® salad line to provide key information and tips to keep people healthy, hydrated and energized throughout the entire summer.
Here are few points Tara covers:
· Great tips and advice on how to build the perfect Summer Salad
Fact: According to WebMD.com, "Making one simple change to your diet – adding a salad almost every day – can pay off with plenty of health benefits," including increasing fiber intake, which "can help lower cholesterol levels."
· Food Equals Fuel – Learn how fruits and vegetables can give you energy.
· How to eat healthy while on the go.
· Hydrate! Hydrate! Hydrate! – How much water should everyone be drinking every day?
· Best sources of protein
· Fresh ingredients vs. pre-packaged foods
· And more.
For videos, images, and Tara's tips, go to http://berryalmondchickensalad.aboutwendys.com/.
More About Tara Gidus, MS, RD, CSSD, LD/N
Tara is quoted in a variety of media including television, radio, newspapers, magazines, and websites and is a past National Media Spokesperson for the Academy of Nutrition and Dietetics. Tara is currently the Team Dietitian for the Orlando Magic NBA team and Nutrition Consultant for the University of Central Florida (UCF) Athletics as well as the "official nutritionist" for runDisney endurance events.Tara helps senior executives from Fortune 100 companies manage their energy in her role as a nutrition and movement coach at the Human Performance Institute.