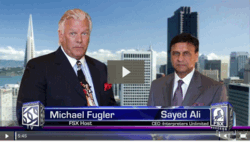 It is an excellent opportunity in this field. This industry is growing over 14% annually.
San Francisco, CA (PRWEB) June 04, 2013
At the recent FSX Investment Conference held at the Ritz-Carlton in San Francisco, California, Sayed Ali, CEO of Interpreters Unlimited granted an exclusive interview available on Interpreters Unlimited's Public Profile on Interlinked's IDeal Room.
During the interview Mr. Ali explained that Interpreters Unlimited is a language service company providing written translation of documents, in person interpretation and over the phone interpretation. They represent over 130 different languages, including American Sign Language, and have over 8,000 interpreters and translators nationwide.
Mr. Ali stated that they are looking forward to continued growth, adding "I think it is an excellent opportunity in this field. This industry is growing over 14% annually. " The language service industry is currently around 29 billion annually and expected to reach 39 billion by 2014.
For more information watch the complete interview and visit Interpreters Unlimited's Public Profile on Interlinked's IDeal Room.
ABOUT INTERPRETERS UNLIMITED
Interpreters Unlimited is a full service language agency that provides all forms of interpretation and translation service. Our service offerings include in-person interpretation, document translation, telephone interpretation, video remote interpretation, and sign language interpretation in over 130 languages. With 42 years of experience, IU is currently one of the oldest language service providers in the industry. For more information, visit https://members.interlinked.com/?c=InterpretersUnlimited & http://www.iugroup.com.
ABOUT INTERLINKED
Interlinked is designed to be the most efficient and powerful system available in assisting its members in finding one another, building relationships and ultimately do business together. Interlinked is a private network and it is not open to the public. You must be invited or apply to be part of the community. Our proven process utilizes four primary systems: one, through our custom automated campaigns (IRocket), second through media InterlinkedTV, thirdly our Ideal room, fourth, through our relationships with strong partners and events. For more information, go to http://www.interlinked.com.
Safe Harbor Statement
This press release may contain information that constitutes forward-looking statements made pursuant to the safe harbor provisions of the Private Securities Litigation Reform Act of 1995. All statements, trends, analysis, and other information contained in this press release, including words such as "anticipate," "believe," "plan," "estimate," "expect," "intend," and other similar expressions of opinion, constitute forward-looking statements. Any such forward-looking statements involve risks and uncertainties that could cause actual results to differ materially from any future results described within the forward-looking statements. Risk factors that could contribute to such differences include those matters more fully disclosed in the Company's reports filed with the Securities and Exchange Commission. The forward-looking information provided herein represents the Company's estimates as of the date of the press release, and subsequent events and developments may cause the Company's estimates to change. The Company specifically disclaims any obligation to update the forward-looking information in the future. Therefore, this forward-looking information should not be relied upon as representing the Company's estimates of its future financial performance as of any date subsequent to the date of this press release.