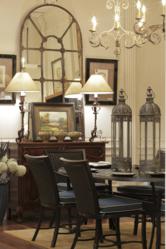 The words sophistication, character and charm repeated as the judges narrowed their choices.
Pelham, AL (PRWEB) June 03, 2013
Summer Classics stores were named the winner of several awards in the Multi-store category of Casual Living's 2013 Merchandising Awards.
Summer Classics' original retail location in Pelham, Ala., was recognized for Best Overall Merchandising – Multi-store. The words sophistication, character and charm repeated as the judges narrowed their choices. Rich's For the Home in Lynnwood, Wash., and Village Green in Rockford, Ill. were also close contenders.
"The Pelham store is the best of the Summer Classics group – beautifully photographed and accessorized in a sophisticated and simplistic manner," said designer Wesley Mancini, who served on the judges' panel. "Collectively, there's a common thread of an aesthetic for outdoor living. This store sells the 'group' or room setting versus a single item, like a chair. … All of their stores look like an interior designer created the environment and space. There's a variety of color and textures used throughout."
Summer Classics' stores in Atlanta and Charlotte, N.C., tied in the Best Use of Accessories, Multi-store category.
The award for Best Store Front, Multi-store went to Summer Classics' Raleigh, N.C. store.
Summer Classics at Fortin Ironworks in Columbus, Ohio, was named the Best First-Time Entry. Privately owned and a new Summer Classics licensee store, judges found it to be excellently presented between lighting, accessories and furniture while also being understated and colorful. As winner of the Best First-Time Entry category, the store will receive a consultation with Retail Makeover CEO Barbara Crowhurst, who served on the judges' panel.
In addition to Crowhurst and Mancini, other judges of Casual Living's 13th annual Merchandising Awards competition were Furniture Today Upholstery/Style Editor Cindy W. Hodnett, Home Accents Today Retail Editor Susan Dickenson, Home Accents Today Art Director Wes Kennedy, Casual Living/Furniture Today Art Director Ronda Whitaker and Casual Living editors Cinde W. Ingram and Alexa Boschini.
Editors announced the retail winners in its June 3 e-Newsletter, which can be viewed at http://www.casualliving.com. The winners also are featured in the magazine's June issue.
Summer Classics is a premier innovator, manufacturer, and retailer of fine outdoor furniture in the U.S. For over a quarter century, the family-owned company has aimed to delight its customers by passionately designing patio furniture from the belief that timeless designs can and will be embraced for years. Life's best moments. Furnished.™
Casual Living is a business-to-business publication, known as the voice of the leisure marketplace. Since 2001, its annual Merchandising Awards have honored casual furniture specialty stores for fashion-forward displays, creative use of accessories and excellence in merchandising. Independent specialty retailers, designers and manufacturers of home furnishings for outdoor, porch and patio use make up Casual Living's primary audience in North America and beyond.
For more information, contact:
Cinde W. Ingram
Editor in Chief
336-605-1122
cingram(at)casualliving(dot)com